Daily Forex Market Preview, 15/03/2018
The uncertainty in the USD continued to linger as the first quarter GDP projections were revised lower following a weak retail sales report. Headline retail sales fell 0.1% in February marking a third month of decline and missed expectations of a 0.3% increase.
German inflation report for February showed no change while the industrial production figures for the Eurozone also came out weaker than expected. ECB President Mario Draghi spoke at the ECB Watchers conference yesterday where he said that officials will remain patient and accommodative as inflationary pressures are yet to build. Later in the evening, New Zealand GDP data showed that the economy expanded at a pace of 0.6% in the quarter ending December. This was below forecasts with the annual GDP rate for 2017 rising at a slower pace.
Looking ahead, the Swiss national bank will be holding its quarterly monetary policy meeting today. No changes are expected from the central bank at today's meeting. The Norges bank will also be holding its monetary policy meeting today. Interest rates are expected to remain steady at 0.5%.
EURUSD intra-day analysis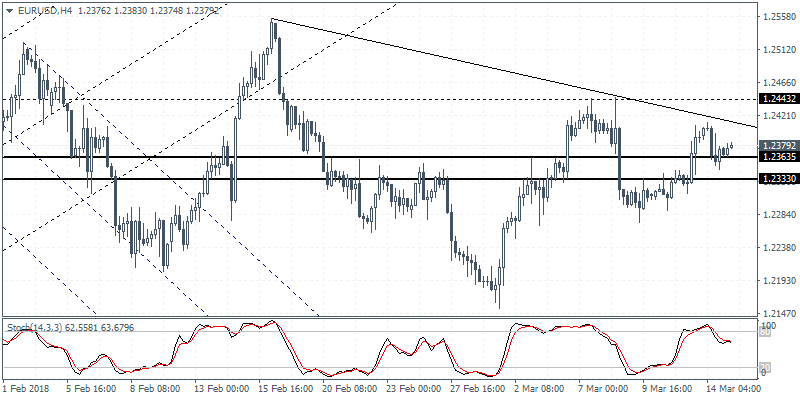 EURUSD (1.2379): The EURUSD was seen trading weaker yesterday following Tuesday's strong gains. Price action remains range bound however but with the euro finding support at 1.2363 level of support, we expect to see price action trading above this price in the near term. The breakout from the falling trend line could potentially keep EURUSD biased to the upside with the potential for the currency pair to target the previous highs at 1.2443. To the downside, a strong close below 1.2330 is required in order to shift the bias to the downside.
GBPUSD intra-day analysis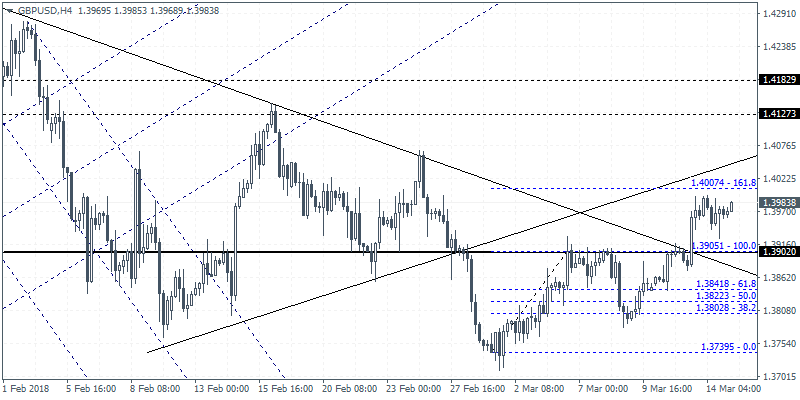 GBPUSD (1.3938): The British pound continued to edge higher on the day but price action was seen giving up the intraday gains to close with a doji. With price supported above 1.3902 we expect to see some consolidation taking place at this level. On the 4-hour chart, GBPUSD is yet to test the initial ascending triangle target at 1.4007 region. Any near-term corrections could see GBPUSD dipping back to 1.3905 level to establish support.
XAUUSD intra-day analysis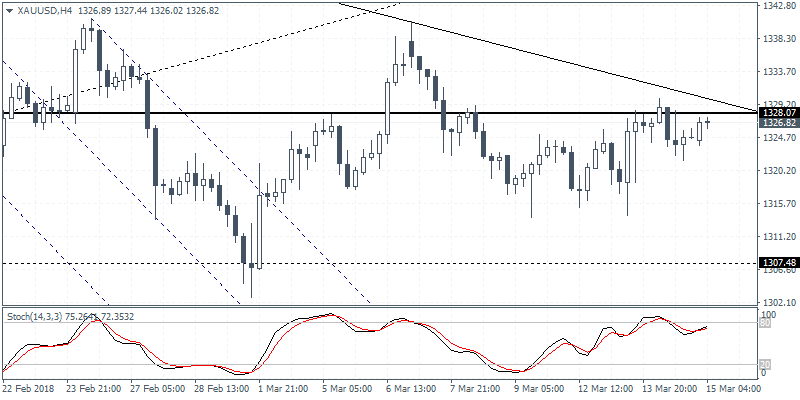 XAUUSD (1326.82): Gold prices were seen posting a consolidation just below the 1328 level. Price action has been flat for nearly four days trading around the major resistance level. To the upside, a break above 1328 could see gold prices testing the falling trend line which could act as dynamic resistance. Further gains can be expected only on a close above the trend line. Alternately, a reversal around the 1328 region could signal gold prices slipping back to the 1307 level of support.
Visit the Orbex website by clicking here fore more daily technical and fundamental analysis.