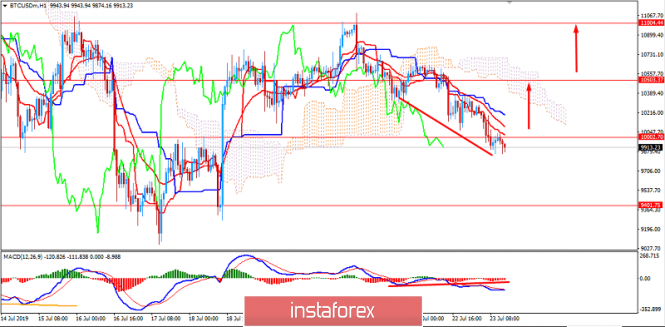 Bitcoin has been struggling at near $10,500 recently. After a nosedive, the price maintains impulsive bearish non-volatile momentum trading below $10,000.
US President Trump has again targeted the Federal Reserve for dragging its feet on interest rate cuts. Moreover, Donald Trump recently declared himself as being generally opposed to Bitcoin and cryptocurrencies. Trump's economic policies have drawn considerable attention from the Bitcoin and wider crypto asset industry. Since Bitcoin represents an asset free from the meddling of politicians, policies that result in a less powerful dollar in the world are frequently met with scorn from those in favor of the Fintech innovation.
The fallout from last week's US senate hearings on Facebook's Libra project is still sending waves across the crypto market. Many analysts are blaming the social media giant for Bitcoin's recent correction. In fact, it is just evidence a new market cycle. Following a week of consolidation, Bitcoin sank below $10,000 today. It is the third dip into four figures since the cryptocurrency hit its 2019 high of $13,800 in late June. The previous two times have seen lower lows, so Bitcoin is likely to fall to $9,000 or below in this correction. Bitcoin dipped to $9,870 a couple of hours ago that has resulted in a 5 percent slide on the day and another thousand dollars decline from its weekend high of $11,000. As the price remains below $10,000, there are not many chances to climb again any time soon.
TECHNICAL OVERVIEW:
The price is currently residing at the edge of $10,000 which is held by the dynamic levels as resistance. After the price broke below $10,500, the overall sentiment turned bearish which lead the price below the psychological level of $10,000. However, with Bullish Divergence in progress, it is still expected to climb higher. The only confirmation will be breaking above $10,000 with a daily close. The price managed to rebound after a recent dip towards $9,000. So, as the price remains above $9,000 with a daily close, the bullish bias is expected to be intact.
TECHNICAL LEVELS:
SUPPORT: 9,000, 9,500, 9,800
RESISTANCE: 10,000, 10,500, 11,000, 11,500
CURRENT BIAS: Bearish
MOMENTUM: Volatile
The material has been provided by InstaForex Company – www.instaforex.com