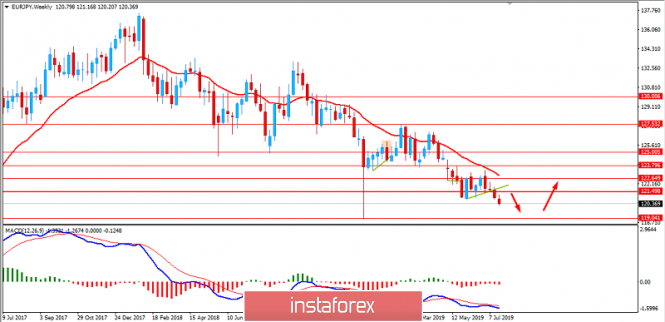 EUR/JPY has been trading under non-volatile bearish pressure after breaking below 123.00 with a daily close. EUR is extending weakness amid the likelihood of additional stimulus measures from the ECB and global economic pressure. So, JPY is going to hold the upper hand in the pair.
The ECB is determined to boost the eurozone's economy with all kinds of stimulus measures, including monetary easing if needed. Today, ECB President Mario Draghi might be tempted to appear proactive and present a foreward guidance. The chance is roughly 30% that the regulator will announce a 10 basis-point cut in the deposit rate. The ECB's counterpart in the US looks poised to lower interest rates by a quarter percentage point next week which is the first reduction in borrowing costs in more than a decade. The ECB tends to announce major policy shifts when it unveils fresh economic forecasts as the revised outlook supports the idea of adding or cutting back on stimulus.
Today the ECB will unveil the decision on the Main Refinancing Rate which is expected to be unchanged at 0.00%. The policy statement will be followed by the press conference that is unlikely to change EUR's momentum.
On the JPY side, the Bank of Japan officials are divided in the viewpoints on whether to ease monetary policy next week or put it on hold. They grapple with the need to protect the economy from an unwelcome JPY spike and mounting global uncertainties with improper tools. Japan has robust domestic demand and weak exports. Thus, many BOJ officials see no imminent need to ramp up monetary stimulus and prefer to save its limited ammunition until the economy faces bigger problems. The BOJ's rhetoric is something between that of the ECB and the Federal Reserve. At the meeting on July 30-31, the Fed is seen cutting rates at least by 25 basis points. Additionally, BOJ Governor Haruhiko Kuroda recently stated that the bank won't hesitate to ease if the economy fails to hit a 2% inflation target. However, the BOJ will weigh the merits and costs of any further easing.
Today Japan's SPPI report was published with a decrease to 0.7% from the previous value of 0.9% which was expected to be at 0.8%. Tomorrow Tokyo's Core CPI is also expected to edge down to 0.8% from the previous value of 0.9%.
To sum it up, JPY has ben dominating EUR despite tepid economic reports from Japan. EUR has been hurt by a slowdown in the eurozone's economy and ECB's hesitation. So, market sentiment is not in EUR's favor.
The material has been provided by InstaForex Company – www.instaforex.com