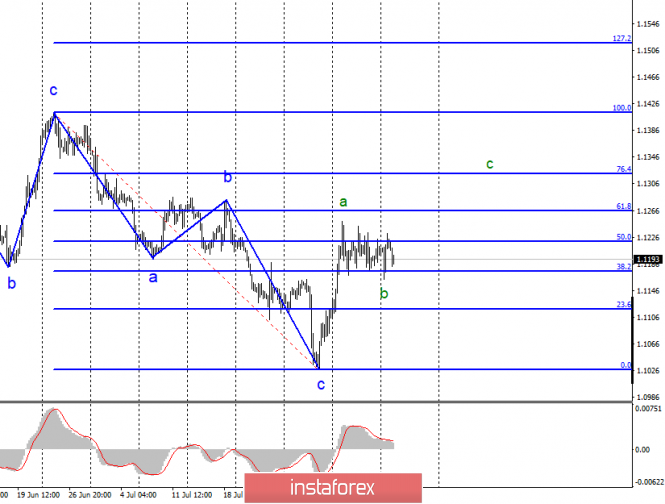 EUR / USD
Monday, August 12, ended for the EUR / USD pair with an increase of 15 basis points. The current wave markings over the past two trading days have not changed completely. The euro-dollar pair is also still within the framework of building the correctional wave b as part of the three-wave ascending wave structure. There was no news background on Friday and Monday, but today, an important report on inflation in America will be released. Since November 2018, this figure has been steadily below 2.0%, which is targeted not only for the Fed, but also for many other central banks. Experts' forecasts suggest that a strong improvement in the indicator for July is not worth waiting for. Acceleration to 1.7% y / y is possible; however, on a monthly basis, it is hardly worth expecting a larger increase than 0.1%. Thus, it is assumed that the American currency will not have strong support today. Although, this does not mean that the dollar cannot complicate wave b at all. Nevertheless, a working option now is to complete the construction of wave b and move on to the construction of wave c. However, it will be very difficult for the euro currency to build a convincing wave without an appropriate news background.
Purchase goals:
1.1264 – 61.8% Fibonacci
1.1322 – 76.4% Fibonacci
Sales goals:
1.1027 – 0.0% Fibonacci
General conclusions and trading recommendations:
The euro-dollar pair continues to build the upward trend section. Thus, it is recommended buying a pair with targets near the calculated marks 1.1264 and 1.1322, which is equal to 61.8% and 76.4% according to Fibonacci signal, and according to the MACD signal upwards, counting on the construction of the rising wave s.
GBP / USD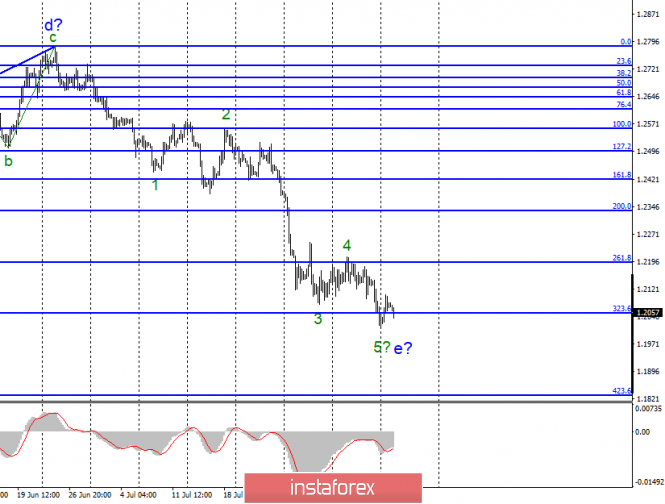 On August 12, the pair GBP / USD increased by 40 basis points. The supposed wave e has taken a rather convincing look, and it was quite completed; however, it was already mentioned several times that wave marking is not a determining factor for the movement of a pound-dollar pair now. The determining factor is the news background, which remains negative for the pound, and which also makes the foreign exchange market continue to get rid of it. Today's report on inflation in the US, the market may not even notice. In the UK today, there will be reports on wages, applications for unemployment benefits and, in fact, on unemployment itself. Despite the fact that wage forecasts for June are quite high, this can also be ignored by the market. What difference does it make if salaries are rising or not, if the country can slide into such a financial crisis in 2.5 months, after which will have to recover several years? Therefore, as before, the only thing that interests the Forex market now is what Brexit will be and when.
Sales goals:
1.2056 – 323.6% Fibonacci
1.1830 – 423.6% Fibonacci
Purchase goals:
1.2783 – 0.0% Fibonacci
General conclusions and trading recommendations:
The downward section of the trend became more complicated, and the pound-dollar pair made a successful attempt to break through the 323.6% Fibonacci level. Despite the fact that the wave e seems complete again, it can take an even more complex form. Thus, with the new MACD signal down, selling a pair with targets near the level of 1.1830, which corresponds to 423.6% Fibonacci is recommended.
The material has been provided by InstaForex Company – www.instaforex.com
Source:: Analysis of EUR / USD and GBP / USD for August 13. Inflation report is unlikely to help the US currency