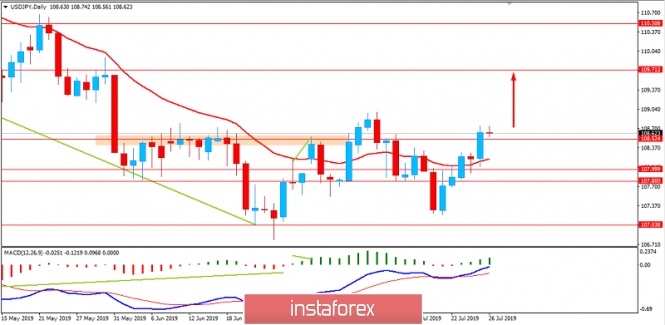 USD managed to regain impulsive momentum against JPY after the positive economic reports which attracted market sentiment in favor of USD. Next week, traders focus on the crucial event for USD, a Fed's policy meeting which could end up with the rate cut decision.
Yesterday US Durable Goods Orders report was published with a spike to 2.0% from the previous negative value of -2.3%, much stronger than the forecast for moderate growth of 0.8%. Core Durable Goods Orders surged to 1.2% from the previous value of 0.4% which was expected to decrease to 0.2%. Moreover, Prelim Wholesale Inventories report revealed positive outcome with a decrease to 0.2% from the previous value of 0.4%. Unemployment Claims also had positive outcome with a decrease to 206k from the previous figure of 216k.
The Federal Reserve is widely expected to cut rates by at least 25 points next week as the global economy is facing a slowdown amid trade and geopolitical pressure. Stock markets have rallied on hopes of monetary easing despite clear signs that the trade conflict and geopolitical uncertainty are undermining investment. The US economy is likely to grow at its slowest pace in more than two years in the second quarter as an acceleration in consumer spending was probably offset by weak exports and business investment. The anticipated moderation in growth will come against the backdrop of rising risks to the economy's outlook, especially from the trade war between the US and China. Such factors could assure the Federal Reserve to cut interest rates next Wednesday for the first time in a decade.
On the other hand, Japan presented mixed economic reports which discouraged investors. As a result, JPY lost dominance over USD. Japan's economy is going through troubled times since early 2019 due to the protracted deflation which is regarded as a phenomenon unique to Japan. Moreover, the sales tax increase in October is seen as an unpopular measure. In addition, news of a 20M JPY gap between pension payouts and the cost of a 30-year retirement is seen as due to durability more than low returns savings but does not sit well in either case. There is much pride attached to hosting the Rugby World Cup in September and the Olympics next year.
The recent Tankan Survey showed that sentiment among large manufacturers stood at three-year lows at the end of June. The government reported a larger than expected year-over-year decline in exports for the seventh month in a row. The Bank of Japan has reduced its bond purchases with little fanfare, while its equity purchases dominate the ETF space. There is no exit strategy. Indeed, it seems more likely that it steps up its JGB purchases again if the government debt finances a supplemental budget to blunt the effect of the sales tax increase. Before the weekend, Japan reported that its core CPI, which excludes fresh food, fell to 0.5% in June, a two-year low.
Today Tokyo Core CPI was published unchanged at 0.9% which was expected to edge down to 0.8%. The unchanged result helped JPY retain momentum but still not sufficient to regain the pressure to continue with the overall bearish trend.
TECHNICAL OVERVIEW:
The price is now trading above 108.50 with a daily close amid steady bullish momentum since the price bounced off the 107.20 support area earlier. The price climbed above the dynamic level of 20 EMA while having Bullish Divergence in place. It is expected to move higher towards 109.50-110.00 resistance area in the coming days.
The material has been provided by InstaForex Company – www.instaforex.com