The pair is trading within the local accumulation zone for the second day. To continue the downward movement, a fixation below the Friday low will be required. This will keep sales open earlier. Formation of correction will be required in order to enter the position again. Selling from current marks is not as profitable as the likelihood of continued movement within the flat increases.
The downward momentum is a strong structure. To complete it, a large demand will be required that should exceed the last supply at least at the daily level.
An alternative model will be developed if the closure of today's US session occurs above the level of 0.6318. This will allow considering growth to 1/2 WCZ of 0.6348-0.6342 and testing of which will determine the further priority. Keeping the price below this zone will indicate a continuation of the downward impulse. Fixation above the zone will indicate the end of the current phase of the bearish trend.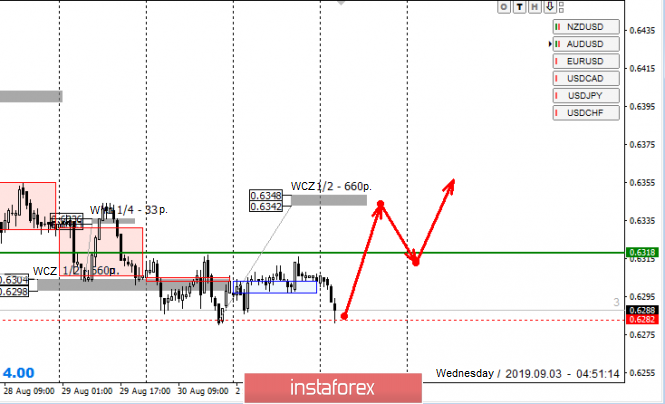 Daily CZ – daily control zone. The area formed by important data from the futures market, which changes several times a year.
Weekly CZ – weekly control zone. The area formed by marks from the important futures market, which changes several times a year.
Monthly CZ – monthly control zone. The area is a reflection of the average volatility over the past year.
The material has been provided by InstaForex Company – www.instaforex.com