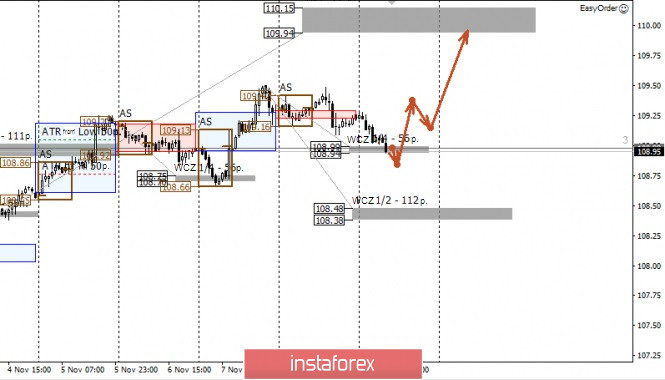 Today, the pair is testing the first support zone of the WCZ 1/4 108.99-108.94. The formation of the "absorption" pattern will allow you to enter the purchase. The growth target will be the weekly CZ 110.15-109.94. The ratio of risk to the profit of this transaction will be much higher than 1/3, so the purchase should be considered as the main transaction.
The correction may continue if the closing of today's Asian session occurs below the WCZ 1/4. The next support zone will be the WCZ 1/2 108.48-108.38. The test of the specified zone will give the opportunity to enter the purchase at the most favorable prices. This model can be taken as a basis in the coming days. The ratio of stop loss to take profit when buying from WCZ 1/2 will be 1 to 8, which makes this transaction extremely profitable. The cancellation of the upward movement will occur if the pair consolidates below the level of 108.38 in one of the US sessions.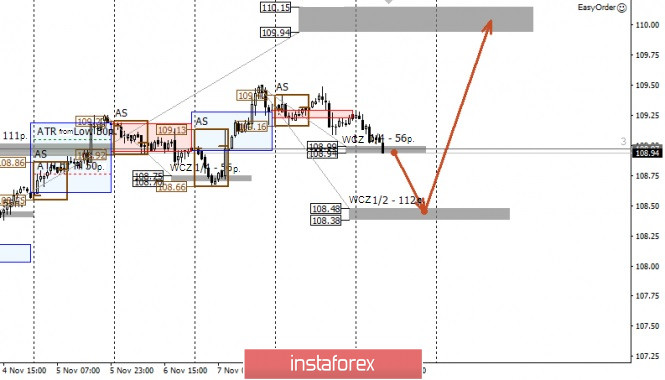 Daily CZ – daily control zone. An area formed by important data from the futures market that changes several times a year.
Weekly CZ – weekly control zone. The zone formed by the important marks of the futures market, which change several times a year.
Monthly CZ – monthly control zone. An area that reflects the average volatility over the past year.
The material has been provided by InstaForex Company – www.instaforex.com
Source:: Control zones USDJPY 11/11/19