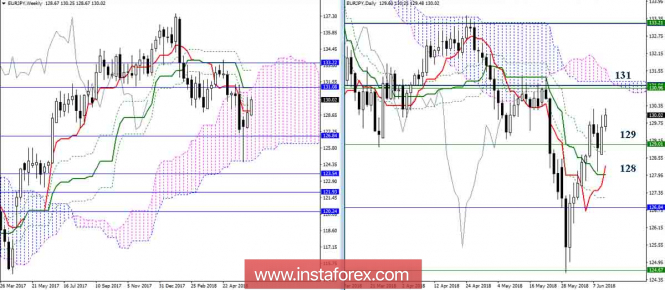 EUR / JPY
The players on the rise continue to insist on resuming the rise to strengthen their sentiments. By now, they have updated the high of last week (130.24). The main upward direction is still the district 131, several important levels are concentrated here at once, weekly Kijun (131.05) and Senkou Span A (130.96), as well as a daytime cloud (131.19). The key support is located today at 129.01 (weekly Tenkan) and 128.00-28 (day cross).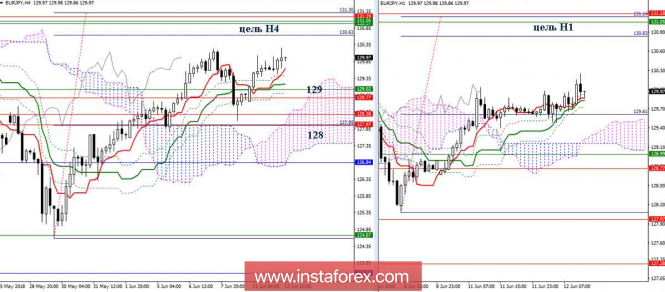 Despite a fairly long stay in the correction zone, the indicator of Ichimoku keeps its support on the players' side for promotion. To the upward orientations of the older time intervals, it is now possible to add targets for the breakdown of clouds H4 and H1. The situation, in terms of moods and prospects, may begin to change in case of reduction and consolidation under support. Among the most significant supports today, we should note a fairly wide area of 129 – 128, formed by the accumulation of levels of senior and junior times.
Indicator parameters:
All time intervals 9 – 26 – 52
The color of indicator lines:
Tenkan (short-term trend) – red,
Kijun (medium-term trend) – green,
Fibo Kijun is a green dotted line,
Chinkou is gray,
Clouds: Senkou Span B (SSB, long-term trend) – blue,
Senkou Span A (SSA) – pink.
The color of additional lines:
Support and resistance MN – blue, W1 – green, D1 – red, H4 – pink, H1 – gray,
Horizontal levels (not Ichimoku) – brown,
Trend lines – purple.
The material has been provided by InstaForex Company – www.instaforex.com
Source:: The daily review of EUR / JPY on June 12, 2018. Ichimoku Indicator