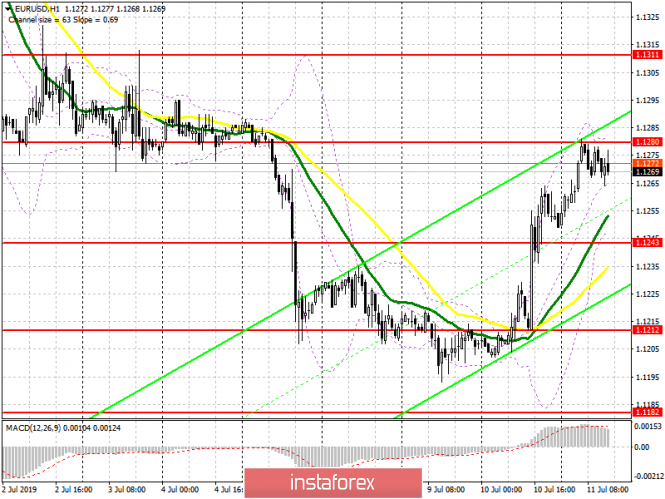 To open long positions on EURUSD, you need:
The situation has not changed compared to the morning forecast, and the whole emphasis in the afternoon will be on inflation data in the US. Buyers of the euro need a breakthrough and consolidation above the resistance of 1.1280, which will continue the upward momentum and will lead to an update of the highs in the area of 1.1311 and 1.1364, where I recommend taking the profits. In the scenario of the euro decline, long positions can be looked at from the support of 1.1243 or a rebound from a large minimum of 1.1212.
To open short positions on EURUSD, you need:
Sellers of the euro can count on a false breakout of the resistance of 1.1280 and good data on inflation in the US, which will lead to a downward correction in the pair and the test of intermediate support of 1.1243, from which growth continued this morning. However, only a breakthrough of 1.1243 will provide the necessary pressure on EUR/USD and a return to the lows of 1.1212 and 1.1182, where I recommend taking the profit. In the trend growth scenario, the euro can be sold on a rebound from the highs of 1.1311 and 1.1338.
Indicator signals:
Moving Averages
Trading is below 30 and 50 moving averages, indicating the continued growth of the euro in the short term.
Bollinger Bands
In the EUR/USD decline scenario, the support will be provided by the lower limit of the indicator around 1.1245.
Description of indicators
MA (moving average) 50 days – yellow
MA (moving average) 30 days – green
MACD: fast EMA 12, slow EMA 26, SMA 9
Bollinger Bands 20
The material has been provided by InstaForex Company – www.instaforex.com
Source:: EUR/USD: plan for the American session on July 11. Inflation data in the US may continue to rise in the euro