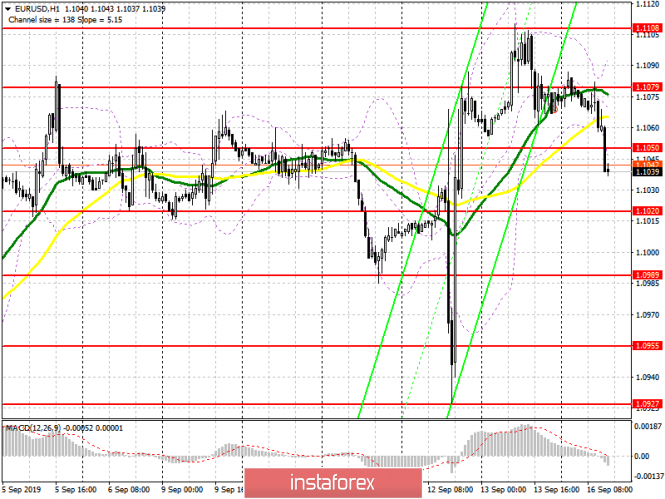 To open long positions on EURUSD, you need:
In the first half of the day, buyers of the euro failed to get above the resistance of 1.1079, and after the release of data on a decrease in inflation in Italy, they retreated altogether, losing the support level of 1.1050, to which I paid attention in my morning forecast. At the moment, it is best to count on new long positions after updating a large support level of 1.1020 or buy immediately on a rebound from the low of 1.0989. Given the fact that the release of important fundamental statistics is not planned for the second half of the day, it is quite possible that bears will also not show high activity and bulls will still be able to return to the level of 1.1050, which will preserve the upward potential in EUR/USD before the important meeting of the Federal Reserve System.
To open short positions on EURUSD, you need:
Sellers have successfully coped with their task to break through the support of 1.1050, which I paid attention to this morning. While trading is below this range, the pressure on the euro will continue, which may lead to an update of the lows in the area of 1.1020 and 1.0989, where I recommend fixing the profits. However, do not forget that on Wednesday, the Fed may announce a decrease in interest rates, so any local minimum in EUR/USD will be used by buyers as a good range for opening long positions. If the pair returns above the resistance of 1.1050, new short positions can be opened from the maximum in the area of 1.1080.
Signals:
Moving averages
Trading is below 30 and 50 moving averages, but this does not indicate a break in the bullish market.
Bollinger Bands
In the case of an upward correction in the second half of the day, the average border of the indicator around 1.1065 will act as a resistance.
Description of indicators
MA (moving average) 50 days – yellow
MA (moving average) 30 days – green
MACD: fast EMA 12, slow EMA 26, SMA 9
Bollinger Bands 20
The material has been provided by InstaForex Company – www.instaforex.com
Source:: EUR/USD: plan for the American session on September 16th. Weak data on Italy returned pressure on the euro and led to a breakdown