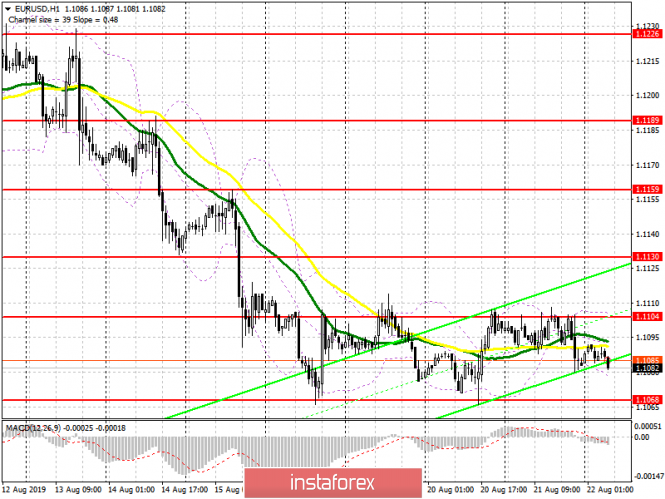 To open long positions on EURUSD you need:
Yesterday's minutes of the July meeting of the Federal Reserve did not change the balance of power between buyers and sellers, since they did not differ from the statements made immediately after the decision to lower the interest rate in the United States. From a technical point of view, nothing has changed. Buyers failed to cope with resistance of 1.1105 yesterday. A breakthrough of this level will increase demand for the euro and lead to the renewal of a larger high of 1.1130, where I recommend taking profits. However, the main target of the bulls is the 1.1159 area, which will allow us to build a new upward trend in the euro. In case EUR/USD falls in the morning, after a series of weak reports on activity in the manufacturing sector of the eurozone, it is best to return to long positions on a breakdown from a low of 1.1068, or a rebound from a new support of 1.1028.
To open short positions on EURUSD you need:
Today, all emphasis will be shifted to data on activity in the manufacturing sector of the eurozone countries, which in recent months is experiencing very serious problems. Weak data will allow the bears to build a false breakdown in the resistance area of 1.1105, which will lead to an update of last week's low of 1.1068, as well as to its probable breakdown. A further target for sellers will be support levels 1.1028 and 1.0990, where I recommend taking profits. If production activity shows the first signs of recovery, demand for the euro may return. In the EUR/USD growth scenario above the resistance of 1.1105, it is best to open short positions by rebounding from highs of 1.1130 and 1.1159.
Signals of indicators:
Moving averages
Trade is conducted in the region of 30 and 50 moving average, which indicates the lateral nature of the market.
Bollinger bands
A break of the lower boundary of the indicator in the region of 1.1082 will strengthen the bearish trend, and a break of the upper in the area of 1.1105 will lead to an upward correction.
Description of indicators
MA (moving average) 50 days – yellow
MA (moving average) 30 days – green
MACD: Fast EMA 12, Slow EMA 26, SMA 9
Bollinger Bands 20
The material has been provided by InstaForex Company – www.instaforex.com
Source:: EUR/USD: plan for the European session on August 22. Fed minutes have not made changes to the market, and now the emphasis