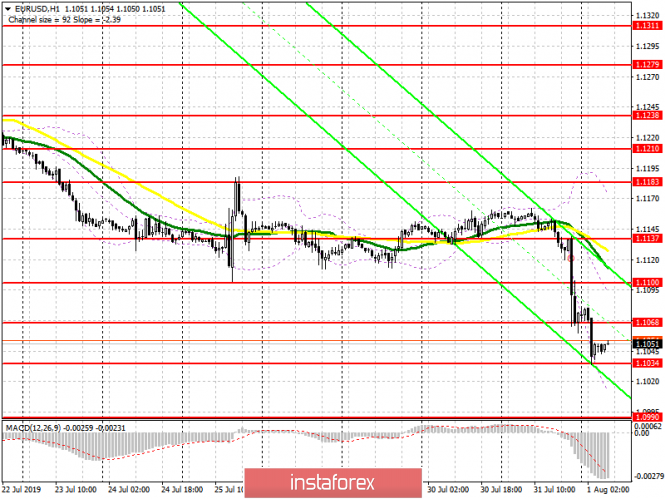 To open long positions on EURUSD you need:
The US Federal Reserve's decision from yesterday did not surprise anyone, and a technical cut in interest rates in the United States only led to a stronger dollar, as traders did not hear direct statements from the Fed chairman about a further series of measures to soften the monetary policy. Today, buyers of the euro have to rely on good PMI indices in the industrial sector, which are unlikely to be able to please something. Only false breakdown at 1.1034 will be a signal to open long positions in the euro, otherwise it is better to rely on purchases after updating the next monthly lows around 1.0990 and 1.0954. The main goal of buyers for the first half of the day will be to return and consolidate above the resistance of 1.1068, which will push EUR/USD upwards to the area of the larger levels of 1.1100 and 1.1137, where I recommend taking profits.
To open short positions on EURUSD you need:
Sellers will wait for weak reports on PMI in the manufacturing sector, which will only increase the pressure on the European currency and lead to a break from consolidating below support for 1.1034, which will push the pair further towards lows of 1.0990 and 1.0954, where I recommend to take profits. If EUR/USD buyers attempt to return to the resistance of 1.1068, the formation of a false breakdown there will be a direct signal for further opening of short positions. Otherwise, you can sell on the rebound from a resistance of 1.1100. In any case, the pair will maintain a medium-term bearish trend, since after yesterday's decision by the Fed, traders will continue to sell the euro in the hope of lowering rates in the eurozone this fall.
Indicator signals:
Moving averages
Trade is conducted below 30 and 50 moving averages, which indicates a further decline in the euro.
Bollinger bands
In case the euro declines, support will be provided by the lower limit of the indicator in the area of 1.1010. An upward correction will be limited by the average line of the indicator in the area of 1.1085.
Description of indicators
MA (moving average) 50 days – yellow
MA (moving average) 30 days – green
MACD: fast EMA 12, slow EMA 26, SMA 9
Bollinger Bands 20
The material has been provided by InstaForex Company – www.instaforex.com
Source:: EUR/USD: plan for the European session on August 1. The pressure on the euro will continue, as traders will win back the