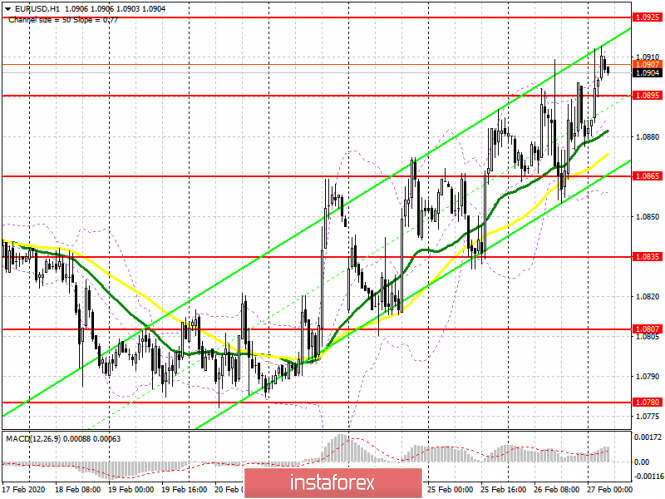 To open long positions on EURUSD you need:
Yesterday's confrontation for the level of 1.0895 was on the side of the bulls, however, the upward correction for the euro is gradually slowing, as buyers are approaching an important level of 1.0925, which may limit the further growth of the pair. A lot of fundamental statistics are planned for today, both in the eurozone and in the US, which can lead to profit taking by buyers, who will count on maintaining support at 1.0895, where the formation of a false breakout will signal a purchase. However, the resistance of 1.0925 remains a more important goal, a breakthrough of which will open a direct path to a high of 1.0950, from where large sellers will begin to operate. If the bulls are not able to maintain 1.0895 support in the morning after poor credit reports and consumer confidence in the eurozone, then it is best to look at long positions on the test of yesterday's low in the region of 1.0865-60, where the lower boundary of the rising price channel also passes, or buy for a rebound from the area of 1.0835.
To open short positions on EURUSD you need:
The sellers' task for the first half of the day will be to return the pair to the support level of 1.0895, since it will be possible to expect a downward correction to the area of moving averages only in this scenario, as well as to the lower boundary of the upward channel, which is located slightly above the support of 1.0865. Consolidating below this range will quickly push the euro down to a low of 1.0835, where I recommend taking profits. However, one can count on such a bearish move only on condition of very weak data on the state of the eurozone economy and a sharp decrease in the consumer confidence indicator. In the scenario of EUR/USD growth in the morning, which may occur after the speech of the European Central Bank President Christine Lagarde, the resistance will be the area of 1.0925, from which I recommend opening short positions only if a false breakout is formed. Selling the euro immediately for a rebound is best done from a larger high of 1.0950.
Signals of indicators:
Moving averages
Trading is conducted above 30 and 50 moving averages, which indicates the likelihood of further upward correction of the euro. With a decrease in the pair, the moving averages will also act as support.
Bollinger bands
As long as trading is above the middle of the indicator, demand for the euro will continue. If the pair decreases, you can buy for a rebound from the lower boundary of the indicator in the area of 1.0860.
Description of indicators
Moving average (moving average determines the current trend by smoothing out volatility and noise). Period 50. The graph is marked in yellow.
Moving average (moving average determines the current trend by smoothing out volatility and noise). Period 30. The graph is marked in green.
MACD indicator (Moving Average Convergence / Divergence – Moving Average Convergence / Divergence) Fast EMA period 12. Slow EMA period 26. SMA period 9
Bollinger Bands (Bollinger Bands). Period 20
The material has been provided by InstaForex Company – www.instaforex.com
Source:: EUR/USD: plan for the European session on February 27. Attention to euro purchases. Important resistance 1.0925 may limit