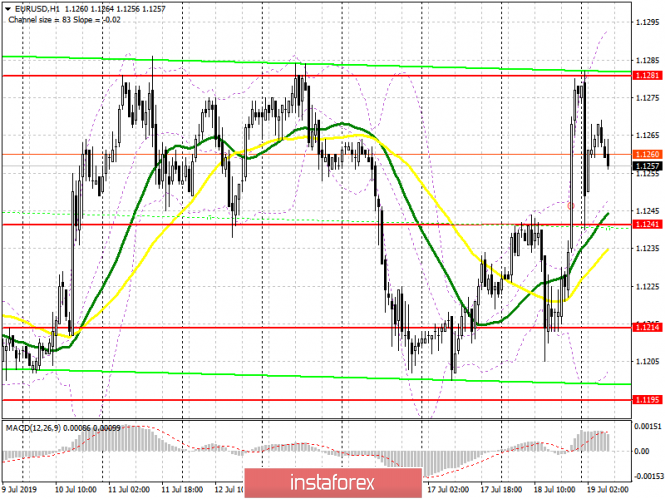 To open long positions on EURUSD, you need:
Yesterday's statements by the fed Fed representatives on the necessary lowering of interest rates were misinterpreted by the market, which led to the sale of the US dollar. However, then the situation stabilized, and a number of lost positions were quickly returned by sellers. At the moment, the situation is on the side of euro buyers. A false breakout in the support area of 1.1241, which may coincide with the release of the report on the balance of the eurozone current account, will be the first signal for opening long positions, but the main goal of the bulls will be the resistance of 1.1280-85, above which it is not possible to break through from July 10. It was then that this level was missed by buyers. The breakout of 1.1280 will lead to the update of highs in the area of 1.1311 and 1.1338, where I recommend taking the profit. In the scenario of decline under the support level of 1.1241, it is best to open long positions on the rebound from the large support of 1.1214.
To open short positions on EURUSD, you need:
Sellers will try their best to keep the resistance at 1.1280, and if there is no unexpected news on the rates from the Fed or the ECB, most likely, the growth of the pair will be limited at the end of this week. A false break in this range will be a signal to open short positions in the euro, but the main task of the bears is to return to the support level of 1.1241. A number of fundamental data planned for the second half of the day can help sellers reach the support of 1.1214, where I recommend fixing the profits. In the EUR/USD growth scenario in the first half of the day above the resistance of 1.1280, it is possible to open short positions immediately for a rebound in the area of the maximum of 1.1311.
Indicator signals:
Moving Averages
Trading is conducted above 30 and 50 moving averages, but we can talk about the resumption of the bullish trend only after the breakdown of the resistance of 1.1280.
Bollinger Bands
The growth of the pair in the first half of the day will be limited by the upper limit of the indicator in the area of 1.1295, while buyers, in the case of a decline in EUR/USD, will return to the market only after the test of the lower limit in the area of 1.1215.
Description of indicators
MA (moving average) 50 days – yellow
MA (moving average) 30 days – green
MACD: fast EMA 12, slow EMA 26, SMA 9
Bollinger Bands 20
The material has been provided by InstaForex Company – www.instaforex.com
Source:: EUR/USD: plan for the European session on July 19. Traders overestimated the likelihood of the Fed lowering the interest