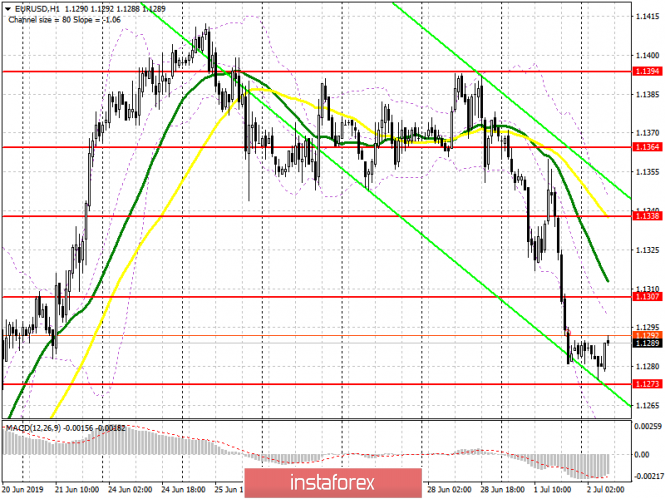 To open long positions on EURUSD you need:
Euro buyers began to enjoy good data on unemployment in the eurozone, but after a slight correction, the bears returned to the market. At the moment, it is best to look at long positions on a false breakdown around 1.1273, with confirmation of divergence on the MACD indicator. Or open long positions immediately to rebound from a low of 1.1239. The main task of the bulls will be a return to the resistance of 1.1307, which may lead to an upward correction of the euro to the area of a high at 1.1338, where I recommend taking profits.
To open short positions on EURUSD you need:
Given that today there is no planned release of important fundamental data for the euro area, the pressure on the euro may continue in the first half of the day. The main task of the sellers will be the breakthrough of the support of 1.1273, which will increase the pressure on the pair and lead to a low of 1.1239 and 1.1207, where I recommend to lock in the profit. In the scenario of an upward EUR/USD correction in the first half of the day, only a false breakdown in the area of a resistance of 1.1307 will be a signal to open short positions. In a different scenario, you can sell on a rebound from a high of 1.1338.
Indicator signals:
Moving averages
Trade is conducted below 30 and 50 moving average, which indicates the formation of a bear market.
Bollinger bands
In case of an upward correction, the upper limit of the indicator in the area of 1.1340 will act as resistance.
Description of indicators
MA (moving average) 50 days – yellow
MA (moving average) 30 days – green
MACD: fast EMA 12, slow EMA 26, SMA 9
Bollinger Bands 20
The material has been provided by InstaForex Company – www.instaforex.com
Source:: EUR/USD: plan for the European session on July 2. The US dollar will continue to strengthen against the euro, but requires