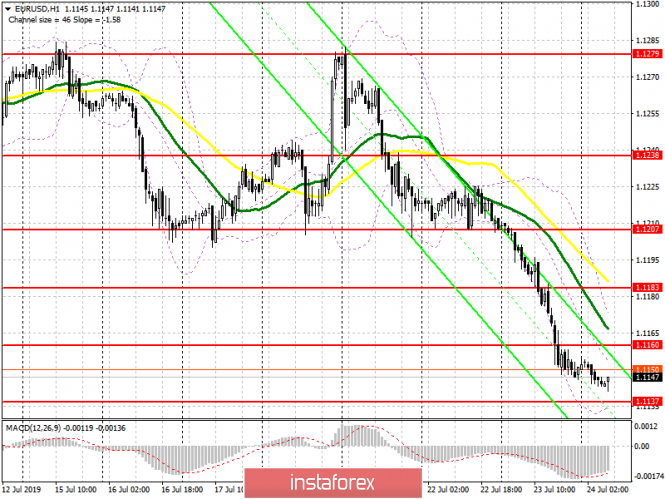 To open long positions on EURUSD you need:
Yesterday's news that an agreement was reached on the ceiling of the US national debt, as well as the resumption of negotiations between the United States and China, helped the US dollar to continue its growth against the weakening euro. Today, buyers will try to do at least something in the support area of 1.1137, where the formation of a false breakdown with a divergence on the MACD indicator will be the first signal to open long positions, the purpose of which will be the resistance of 1.1160. Consolidating above this level will lead to a larger upward correction of the euro in the area of 1.1183, where I recommend to take profit. If the pressure on EUR/USD continues after the release of weak reports on the German and Eurozone PMI indices, then it's best to expect the bearish trend to stop in the area of new local lows in 1.1110 and 1.1079, where you can open long positions to rebound immediately.
To open short positions on EURUSD you need:
The strength of the US dollar is clear, but the pressure on the euro will continue until tomorrow's decision of the European Central Bank. Bears only need a correction in the resistance area of 1.1160, since the formation of a false breakdown there will be another signal to open short positions. The goal of the sellers will be the support of 1.1137, the breakthrough of which will only increase the pressure on the pair and lead to further downward movement to the area of 1.1110 and 1.1079, where I recommend to take profit. It is important to note that if sellers attempt to immediately break through in the first half of the day below 1.1137, then the divergence, which is formed on the MACD indicator, may limit the downward potential. With growth above the level of 1.1160, you can sell the euro on a rebound from a large high of 1.1183, where the moving average also passes.
Indicator signals:
Moving averages
Trade is conducted below 30 and 50 moving averages, which indicates an advantage on the part of euro sellers.
Bollinger bands
In case of an upward correction, the upper limit of the indicator in the area of 1.1165 will act as a large resistance level.
Description of indicators
MA (moving average) 50 days – yellow
MA (moving average) 30 days – green
MACD: fast EMA 12, slow EMA 26, SMA 9
Bollinger Bands 20
The material has been provided by InstaForex Company – www.instaforex.com
Source:: EUR/USD: plan for the European session on July 24. US government debt ceiling raised, IMF lowers global GDP growth forecast