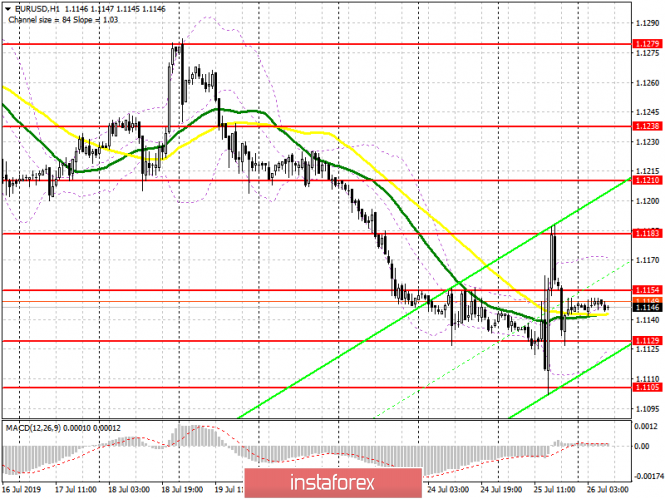 To open long positions on EURUSD you need:
Yesterday's speech by European Central Bank President Mario Draghi was very unexpected for traders. The head of the ECB said that the central bank did not even consider the option of changing the course of monetary policy in the near future, which led to a slight increase in the euro. However, buyers could not hold it at its highs. At the moment, trading is conducted in the same side channel as yesterday, until the ECB makes a decision. The breakthrough of the 1.1154 level will be a signal to open long positions in the euro in order to continue the upward correction to the area of 1.1183 and with access to a new high of 1.1210, where I recommend taking profits. If EUR/USD goes down in the first half of the day, the area will be supported by 1.1129, but whether buyers will keep it will depend on the US GDP report. False breakdown at this level will signal the opening of new long positions. In a different scenario, it is best to buy the euro for a rebound from the low of this week 1.1105.
To open short positions on EURUSD you need:
Bears will count on a breakthrough of support at 1.1129, since a consolidation below this level will give a new impetus to the downward trend, which will lead to new lows around 1.1105 and 1.1079, where I recommend to take profits. The formation of a false breakdown in the resistance area of 1.1154 will also be a signal to open short positions in EUR/USD. However, the entire emphasis of the sellers, given the absence of important fundamental statistics in the first half of the day, will be placed on the US GDP data, the output of which is scheduled before the opening of the US session. In the event of a weak report and that the euro increases above the resistance of 1.1154, it is best to return to short positions to rebound from a high of 1.1183 or from a level of 1.1210.
Indicator signals:
Moving averages
Trade is conducted in the region of 30 and 50 moving averages, which indicates market uncertainty after yesterday's data.
Bollinger bands
In case of growth, the upper limit of the indicator will be in the area of 1.1170, while the lower limit in the area of 1.1125 will support the euro.
Description of indicators
MA (moving average) 50 days – yellow
MA (moving average) 30 days – green
MACD: fast EMA 12, slow EMA 26, SMA 9
Bollinger Bands 20
The material has been provided by InstaForex Company – www.instaforex.com
Source:: EUR/USD: plan for the European session on July 26. Mario Draghi wants to "wait" before starting to cut rates