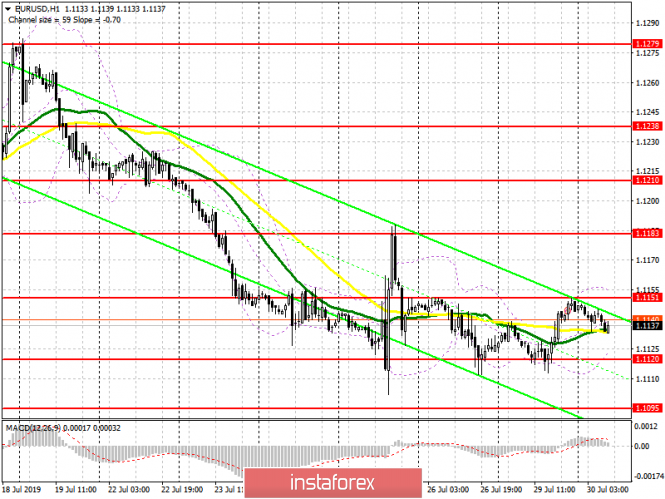 To open long positions on EURUSD you need:
The absence of important fundamental data yesterday kept the market in a narrow side channel. The bears' failure to continue the downward trend did not lead to success, which led some traders to take part of the profits ahead of the Fed's meeting tomorrow. Just like yesterday, today, buyers need another false breakdown in the resistance area of 1.1120 in the first half of the day, which will be the first signal to open long positions in order to return and update the intermediate level of 1.1151, where I recommend to take profits. The main goal of the bulls will be the test of the upper limit of the wide side channel 1.1183, which was formed last week after the ECB decision. If the pressure on EUR/USD continues further, it is better to consider new long positions for a rebound from the next annual low around 1.1095 or for a rebound from the support of 1.1068.
To open short positions on EURUSD you need:
Once again, bears will count on a breakthrough of support for 1.1120, which they did not manage to do yesterday against the background of the absence of important fundamental statistics. Consolidating below this level will give a new impetus to the downward trend, which will lead to new lows around 1.1095 and 1.1068, where I recommend taking profits. The formation of a false breakdown in the resistance area of 1.1151 in the first half of the day will also be a signal to open short positions in EUR/USD. An important report on the indicator of consumer confidence in the euro area will be released today, the reduction of which could put additional pressure on the euro. When the EUR/USD growth scenario is above the resistance of 1.1151, it is best to return to short positions to rebound from a high of 1.1183 or from a larger area of 1.1210.
Indicator signals:
Moving averages
Trade is conducted in the region of 30 and 50 moving averages, which indicates market uncertainty.
Bollinger bands
In case of euro growth, the upside potential will be limited by the upper level of the indicator in the 1.1155 area. The lower limit of 1.1120 will support the decrease.
Description of indicators
MA (moving average) 50 days – yellow
MA (moving average) 30 days – green
MACD: fast EMA 12, slow EMA 26, SMA 9
Bollinger Bands 20
The material has been provided by InstaForex Company – www.instaforex.com
Source:: EUR/USD: plan for the European session on July 30. EURUSD remains in the channel ahead of an important Fed meeting