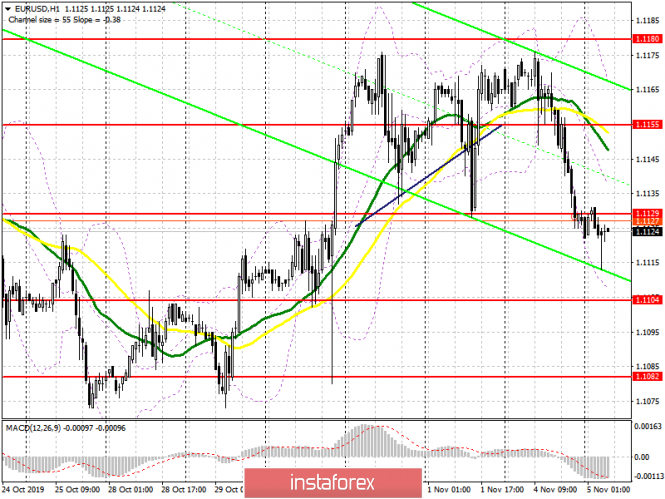 To open long positions on EURUSD you need:
The new European Central Bank Chief, Christine Lagarde's speech yesterday in the afternoon was mediocre, which put pressure on the euro, which in the morning was experiencing growth problems after declining activity in the manufacturing sector of the eurozone. Today, bulls need a return to the resistance of 1.1130, which will make it possible for them to build a new upward trend and return to the level of 1.1155, where I recommend profit taking. In the event of a weak report on producer prices in the eurozone, pressure on EUR/USD may return, in such a scenario it is best to open long positions on a false breakout from a support of 1.110
To open short positions on EURUSD you need:
Sellers are gradually building a downward correction, and a return under the moving average indicates a further decline in the pair in the short term. The main task for the first half of the day will be the formation of a false breakout in the resistance area of 1.1129, which can be formed after a weak report on producer prices of the eurozone, which will be a clear signal for the further sale of the euro in order to update the lows of 1.1104 and 1.1082, where I recommend profit taking. If the bulls find the strength in themselves and return the level of 1.1129, you can sell immediately for a rebound in the area of a high of 1.1155, where the moving averages are concentrated.
Signals of indicators:
Moving averages
Trading is conducted below 30 and 50 moving averages, which indicates a bearish nature of the market.
Bollinger bands
In case of growth, the average boundary of the indicator at 1.1135 will act as resistance, and a break of the lower boundary at 1.1110 will increase pressure on the euro.
Description of indicators
MA (moving average) 50 days – yellow
MA (moving average) 30 days – green
MACD: Fast EMA 12, Slow EMA 26, SMA 9
Bollinger Bands 20
The material has been provided by InstaForex Company – www.instaforex.com
Source:: EUR/USD: plan for the European session on November 5. Weak manufacturing sector and Lagarde's mediocre speech put pressure