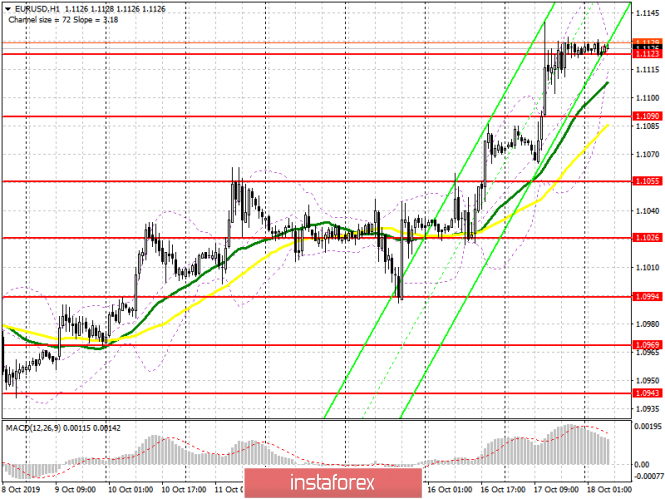 To open long positions on EURUSD you need:
Yesterday's Brexit news was optimistic for euro buyers, and weak fundamental statistics on the US economy made it possible for the pair to remain at current highs. However, to continue the euro's growth, it is necessary to hold the level of 1.123 in the first half of the day, as well as the formation of a false breakout on it, which will update the highs in the area of 1.1151 and 1.1189, where I recommend taking profits. In the absence of important reports today on the eurozone, it will be extremely difficult to do so. Any negative news related to the agreement could put pressure on the pair. Therefore, in the scenario of its decline, you can count on buying from the minimum of 1.1090, where the moving average passes, as well as a rebound from the larger support of 1.1055.
To open short positions on EURUSD you need:
The resistance update at 1.1151 may coincide with the divergence that is now forming on the MACD indicator. This will be a clear signal to open short positions. However, the more important task of the bears will be to consolidate below the support of 1.123, which will push EUR/USD to the lows of 1.1090 and 1.1055, where I recommend profit taking. Pressure on the euro could also be provided by negative news from the UK Parliament. Tomorrow, it will discuss the Brexit deal and vote on it. In the scenario of a larger growth above 1.1151, it is best to return to short positions in the euro immediately on the rebound from the high of 1.1189.
Signals of indicators:
Moving averages
Trade is conducted above 30 and 50 moving averages, which indicates a further increase in the euro.
Bollinger bands
Volatility is greatly reduced. A break of the lower boundary of the indicator at 1.1117 may increase pressure on the euro. While growth above the upper level at 1.1130 will lead to new purchases of the euro.
Description of indicators
MA (moving average) 50 days – yellow
MA (moving average) 30 days – green
MACD: Fast EMA 12, Slow EMA 26, SMA 9
Bollinger Bands 20
The material has been provided by InstaForex Company – www.instaforex.com
Source:: EUR/USD: plan for the European session on October 18. Bullish sentiment has decreased, but the euro is still likely to grow