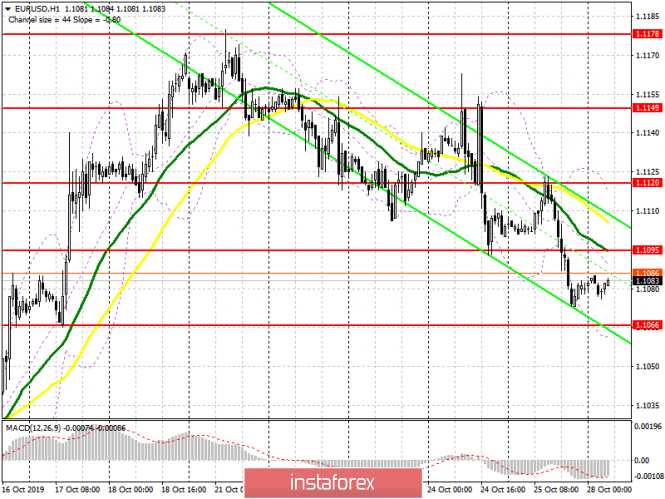 To open long positions on EURUSD you need:
Despite Friday's weak fundamental data on the US economy, there are clearly more problems in the eurozone than it seemed before. Against this background, the euro continues to decline against the US dollar. Today, the bulls can count on a breakthrough and consolidation above the resistance level of 1.1095, and only under this condition will the pair be able to return to the high of 1.1120, where I recommend profit taking. If the data on lending in the eurozone disappoint traders, only the formation of a false breakout in the support area of 1.1066 will be a signal for purchases. Otherwise, it is best to open long positions on a rebound from a low of 1.1026. Today, the EU will vote on the postponement of the UK, which may also provide good support for EUR/USD in the short term.
To open short positions on EURUSD you need:
Euro sellers will concentrate on the evening speech of the European Central Bank President, Mario Draghi, and only on his comments will they return to the market. A false breakout in the resistance area of 1.1095 will be the first signal to open short positions in EUR/USD, the aim of which will be to support 1.1066. However, only consolidation below this level will it be possible for the bears to more confidently continue their downward correction to a low of 1.1026, where I recommend profit taking. With good news from the EU on granting a reprieve to the UK, bulls could break above the resistance of 1.1095. In this case, it is best to return to short positions on the rebound from the larger highs of 1.1120 and 1.1149.
Signals of indicators:
Moving averages
Trading is carried out below 30 and 50 moving average, which indicates the preservation of the bearish momentum.
Bollinger bands
If the euro rises in the morning, the upper boundary of the indicator in the area of 1.1110 will act as resistance. A break of the lower boundary at 1.1066 will put new pressure on the pair.
Description of indicators
MA (moving average) 50 days – yellow
MA (moving average) 30 days – green
MACD: Fast EMA 12, Slow EMA 26, SMA 9
Bollinger Bands 20
The material has been provided by InstaForex Company – www.instaforex.com
Source:: EUR/USD: plan for the European session on October 28. The euro will remain in the channel until Mario Draghi's speech. Bulls