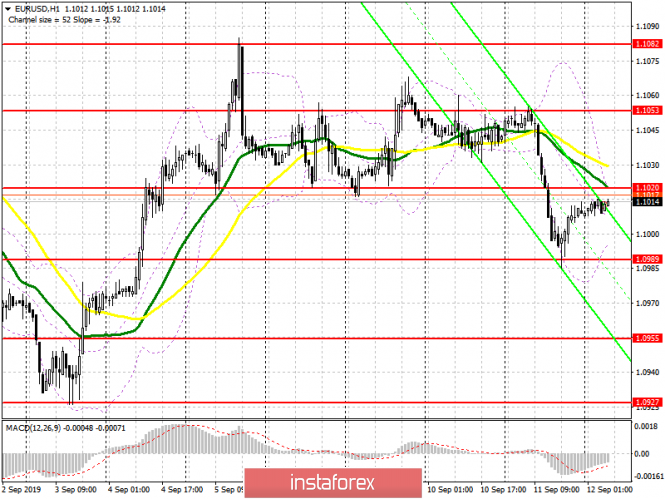 To open long positions on EURUSD you need:
Today is a very important day, as the European Central Bank can lower interest rates to a negative level, which will weigh on the euro. Yesterday, buyers were able to cling to the support level of 1.0989, which I repeatedly paid attention to in my reviews, however, a more important task now is to break through and consolidate above the resistance of 1.1020. Good data on Germany can help in this, which will lead to a larger growth of EUR/USD in the resistance area of 1.1053, where I recommend taking profits and waiting for the ECB's decision on interest rates. If the bears continue to pull down the pair, which is more likely, then returning to purchases from the level of 1.0989 is now best after a false breakdown, or open long positions immediately to rebound from a low of 1.0955.
To open short positions on EURUSD you need:
Bears will try to take advantage of the weak inflation report in Germany and continue to pull down the euro. The formation of a false breakdown in the region of 1.1020 will be an additional signal to open short positions, and the first goal will be yesterday's support at 1.0989, which limited all downward potential. Its breakdown will lead to a larger sale in the region of the lows of 1.0955 and 1.0927, but this is only with the scenario that the European Central Bank decides to lower interest rates. If in the first half of the day there will be a demand for the euro, and the bears do not emerge in the area of 1.1020, it is best to consider new short positions for a rebound from a high of 1.1053.
Signals of indicators:
Moving averages
Trade is conducted in the region of 30 and 50 moving average, which indicates market uncertainty in front of important data.
Bollinger bands
In case the euro declines in the morning, the lower boundary of the indicator in the region of 1.0995 may act as support.
Description of indicators
MA (moving average) 50 days – yellow
MA (moving average) 30 days – green
MACD: Fast EMA 12, Slow EMA 26, SMA 9
Bollinger Bands 20
The material has been provided by InstaForex Company – www.instaforex.com
Source:: EUR/USD: plan for the European session on September 12. ECB decision will cause the euro to fall, but it will be limited