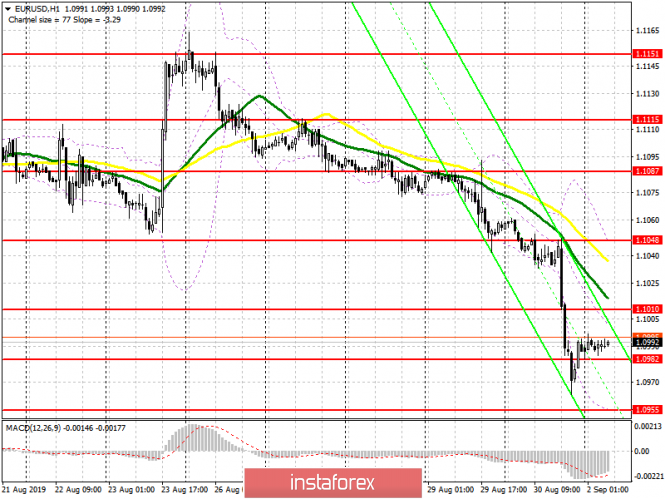 To open long positions on EURUSD you need:
Despite the fact that it's the end of the month and there are expectations of profit taking, the weak data on the eurozone economy that was released on Friday hit the EUR/USD pair, which led to another update of monthly lows. At the moment, buyers should rely only on the level of 1.0982, since only the formation on it will be the first signal to open long positions. More rational purchases are best done after updating the low of 1.10955, with confirmation of the divergence on the MACD indicator, which is now being formed on the hourly chart. The main task of the bulls will be the resistance of 1.1010, consolidating above which will lead to an upward correction to the area of a high of 1.1048, where I recommend profit taking.
To open short positions on EURUSD you need:
Today, the United States celebrates Labor Day, so a number of markets will be closed, which will affect the volume and volatility. However, in the first half of the day, indexes are expected to be released for the manufacturing sector of the eurozone countries, which may increase pressure on the euro and cause the pair to further fall. A break of support at 1.0982 will be the first sell signal in order to update the lows 1.0955 and 1.0927, where I recommend taking profits, as bullish divergence on the MACD indicator can form in this range. In the EUR/USD growth scenario in the morning after the reports, which is unlikely, it is best to open short positions after a false breakdown in the 1.1010 area, where the moving averages are concentrated, or a rebound from the resistance of 1.1048.
Signals of indicators:
Moving averages
Trading below 30 and 50 moving averages, indicating a continued decline in the euro.
Bollinger bands
If the euro rises in the morning, short positions can be opened by a rebound from the upper boundary of the indicator in the region of 1.1035. The downward trend can be stopped by the lower boundary at 1.0955.
Description of indicators
MA (moving average) 50 days – yellow
MA (moving average) 30 days – green
MACD: Fast EMA 12, Slow EMA 26, SMA 9
Bollinger Bands 20
The material has been provided by InstaForex Company – www.instaforex.com
Source:: EUR/USD: plan for the European session on September 2. Bears hit the euro at the worst possible moment