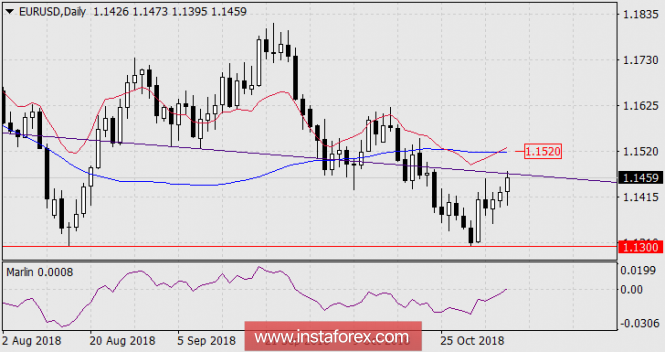 EUR / USD
So this morning, the final results of the elections to the US Congress will be known. They began with the increased optimism of the Democrats as the preliminary surveys of consulting agencies predicted a victory for them. And even the dollar that weakened under this PR by 0.11%. Euro rose 18 points.
But by this morning, the Democrats' confidence had spread. Democrats are currently winning the Lower House of Congress with a slight advantage: 182 seats against 170 with the Republicans. However, Republicans win the Senate elections with 51 against 43 and lead in the governor's office: 22 against 19. Donald Trump has termed "terrific success."
The final results will be known in a few hours. But for now, the scenario of reversing the tendency to strengthen the dollar without speculative movements, which we discussed in the previous reviews, can be realized.
On the daily chart, the price reached the nested line of the price channel. The Marlin oscillator line touched the border with the growth zone of the trend. The objective is 1.1300 and the next is 1.1200. This is our main scenario.
Nevertheless, the exit of the price to 1.1520. can take place even exclusively by speculative mechanisms. The reason can be found.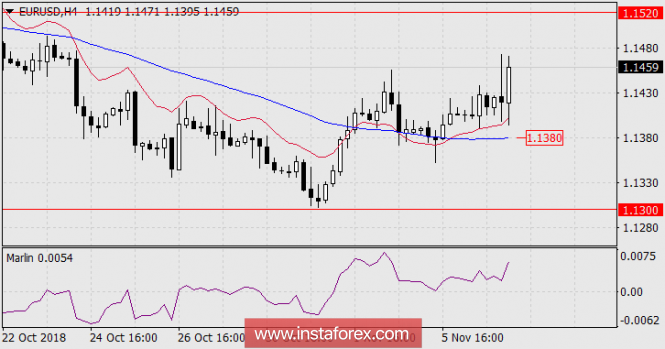 On the four-hour chart, the Marlin oscillator signal line slowed down. In case of price reduction, a reversal divergence may form. On the launch of a lowering scenario, you can only talk when the price of this line is 1.1380 which is below the Krusenstern line on this scale.
The material has been provided by InstaForex Company – www.instaforex.com