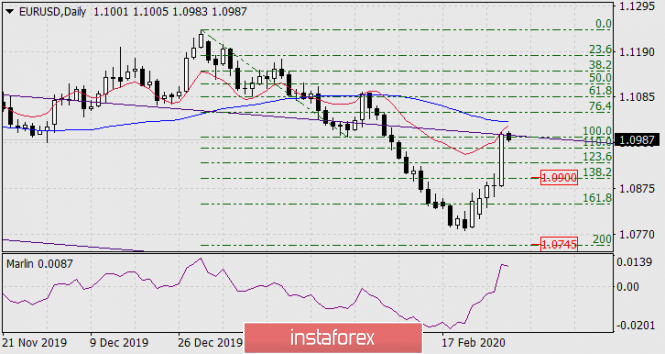 EUR/USD
The euro showed an abnormal growth of 120 points on Thursday amid moderate (canadian dollar) or even indistinct (Australian dollar) development in other leading currencies.. The reason for this was the widespread risk aversion and the curtailment of European carry trade transactions. The US stock market (S&P 500) fell 4.42%, in one week the decline blocked the previous four-month growth. The market likelihood (in accordance with futures on federal funds) of the Fed's rate cut in March in one day increased from 44.3% to 97.4%, even for April, another cut is 73.1% compared to 27.5% the day before. At a time when the epidemic of the coronavirus began to subside, a storm came to the markets. On the other hand, this is the best time to blow out market bubbles and remove small players from the market. Major players left the market last year. Euro trading volumes were the highest yesterday in the last 5.5 months. The lion's share did not fall on purchases, but on closing stop losses above 1.09. The euro corrected 50% of the entire decline on December 31-March 20. Now you can turn down. The fact is that if investors really consider the collapse to be the beginning of a new global crisis, whether they want it or not, the world will buy dollars even when rates are lowered, but carry trade deals, according to experience, are closed very quickly.
The euro reached a low of January 2020 and the resistance of the embedded line of the price channel on the daily chart. Growth was stopped by the red indicator line of balance, which from a purely technical point of view indicates that the downward mood will continue. The MACD line is also higher than the price. The Marlin has risen, but shows an intention to turn down.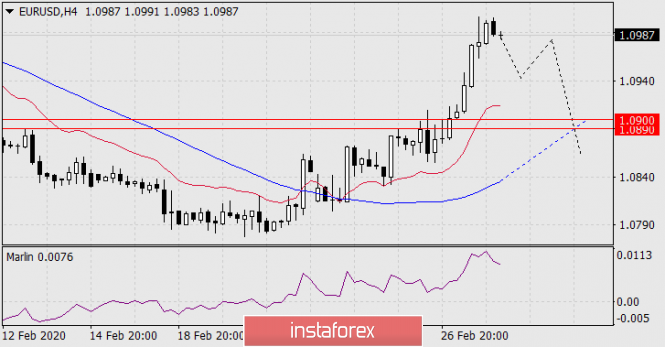 The situation is completely upward on the four-hour chart. The Marlin oscillator in the overbought zone. Taking into account yesterday's volumes, we can expect some price delay in the area of the reached high, investors will need several days to make new decisions. A signal for the resumption of sales will be when the price leaves the under the MACD line, approximately, around 1.0890-1.0900, that is, from the place where there were recent stop losses.
The material has been provided by InstaForex Company – www.instaforex.com