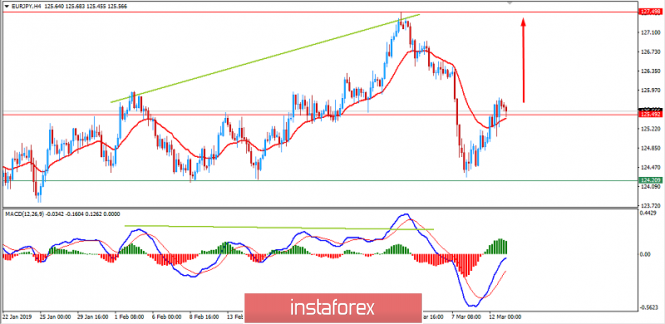 The European Central Bank has been quite active for regaining momentum for the Eurozone economy while facing the slowdown crisis. The euro is currently observed to be regaining momentum over the yen and this trend is expected to extend further.
The European Central Bank policy makers want to reduce the dependency of eurozone banks on the central bank. The ECB is currently looking forward to provide the banks with access to multi-year loans and put off raising interest rates as a step of reviving the fragile economy in order to regain momentum again. Ahead of the Brexit deal, the euro gains may be quite volatile, since Brexit can affect the growth of the eurozone economy in certain ways. Though most of the industries are shifting to Europe, but gaining the momentum with such investments and relocation may take some time to impact the economy positively in the coming months.
Today, Italian Quarterly Unemployment Rate is going to be published which is expected to increase to 10.5% from the previous figure of 10.2% and Eurozone Industrial Production is anticipated to grow to 1.0% from the previous negative value of -0.9%.
On the other hand, the Bank of Japan is currently dealing with the inflation target and ultra-loose monetary policy where most of the policy makers expect the BOJ to make certain changes to regain the momentum in the market. The BOJ still faces the dilemma relating to dried-up liquidity and affecting commercial bank profits while stocking concern over the rising risk of prolonged easing. Recently, the BSI Manufacturing Index report has been published with a significant decrease to -7.3 from the previous positive figure of 5.5 which was expected to be at 4.8. And today, Core Machinery Orders has also shown a decrease to -5.4% from the previous value of -0.1% which was expected to be at -1.6%. Though PPI has demonstrated a certain increase to 0.8% from the previous value of 0.6% which was expected to be at 0.7%.
As of the current scenario, the yen is expected to lose further momentum due to the confused BOJ and worse economic reports, whereas the euro growth is likely to be a bit slower than expected, but as the ECB working with a hawkish viewpoint, certain gains on the euro are expected in the coming days.
Now let us look at the technical view. After forming a Bearish Divergence earlier, the price managed to move below the 125.00 area with a daily close which had been recently regained with a strong bullish momentum. The price is currently residing above the 125.50 event area from where it is expected to push higher towards the 127.50 resistance zone in the coming days. As the price remains above the 125.00 area with a daily close, the bullish bias is expected to continue.
The material has been provided by InstaForex Company – www.instaforex.com