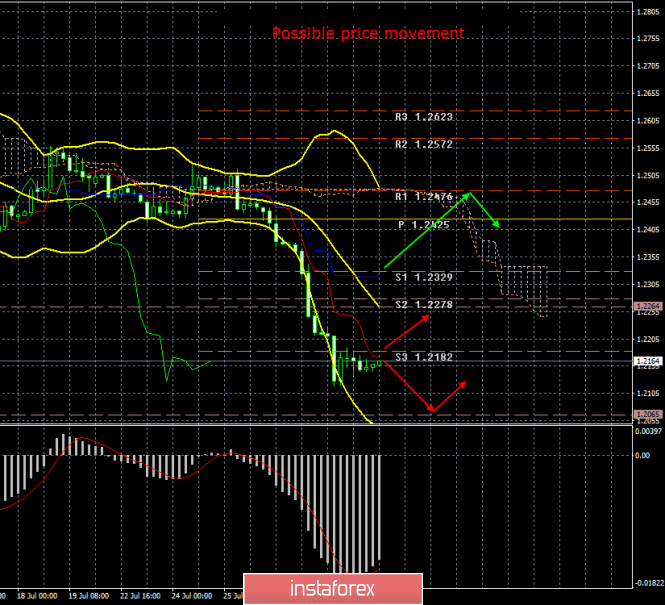 4-hour timeframe
The amplitude of the last 5 days (high-low): 64p – 96p – 81p – 84p – 170p.
Average amplitude for the last 5 days: 99p (77p).
The collapse of the British pound sterling ended last night. Since then, the pound-dollar pair has been moving sideways with low volatility. That is, the upward correction did not start even after a sharp drop in the quotations of the pound, which means that traders do not even close short positions and, certainly, are not buying the British currency. Thus, there still are not many chances for the pound to more or less sharply strengthen. The pound fell due to Boris Johnson's firm attitude on the "hard" Brexit until October 31. In the first few days of his reign, he seemed to give hope for new negotiations with the European Union, but his ultimatums to Brussels, of course, did not cause joy among European colleagues. Thus, the new negotiations did not work out, and the country is moving at full speed into the abyss … that is, to exit from the EU without any agreements. London-based Brexit negotiator Stephen Baclay, who confirmed Johnson's words that the United Kingdom will leave the EU in any way on October 31, had finished off the pound sterling. On the one hand, for the UK and, especially, the British pound, this may not be such a bad option. Since uncertainty and delaying the terms also have a negative effect on the country's economy and currency rate. Yes, the hard Brexit will hit the economy hard, but after it, the worst will be left behind and the UK economy will start to rise. Moreover, if there were real opportunities to reach an agreement with the EU, then one could complain that the government chose the wrong policy or was simply incompetent, but the issue of back-stop remains open and the parties have not advanced a word of it in the negotiations.
Trading recommendations:
The pound/dollar currency pair resumed the increased downward movement. Thus, it is now recommended to continue selling the pound sterling while aiming for the support level of 1.2065.
After the pair has consolidated above the critical line, it will be possible to buy the British currency, however, with extreme caution and in small lots. The first goal is the level 1.2476.
In addition to the technical picture should also take into account the fundamental data and the time of their release.
Explanation of the illustration:
Ichimoku indicator:
Tenkan-sen – the red line.
Kijun-sen – the blue line.
Senkou Span A – light brown dotted line.
Senkou Span B – light purple dotted line.
Chikou Span – green line.
Bollinger Bands indicator:
3 yellow lines.
MACD Indicator:
Red line and histogram with white bars in the indicator window.
The material has been provided by InstaForex Company – www.instaforex.com
Source:: GBP/USD. July 30th. Results of the day. Boris Johnson and Stephen Barclay "killed" the pound sterling