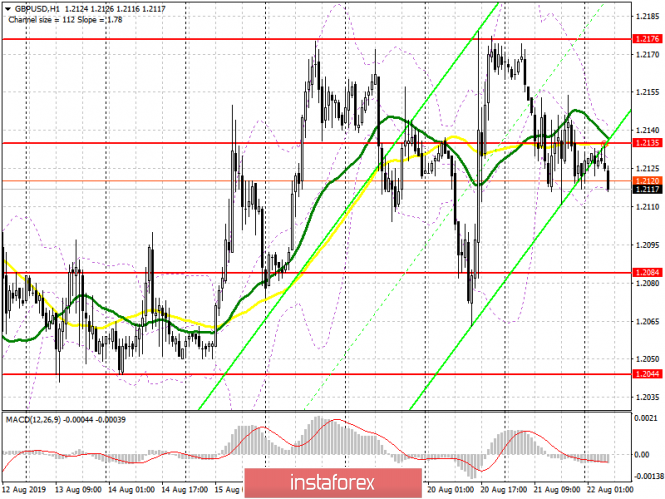 To open long positions on GBP/USD you need:
Yesterday, the publication of the Federal Reserve's minutes made it possible for bears to return the pound to the resistance level of 1.2135, which will now be the main focus of buyers. Only a return to this range to the opening of the European session will lead to a continuation of the pair's upward correction with a test of a high of 1.2176. A breakthrough of this level will provide GBP/USD a rush of larger buyers and exit to the level of 1.2217, where I recommend taking profits. In the scenario of further decline in GBP/USD in the morning against the background of a nervous situation with Brexit, it is best to consider new long positions for a rebound from a support of 1.2084, or after updating a larger level of 1.2044.
To open short positions on GBP/USD you need:
Bears managed to cope with the task and returned the pair below the support of 1.2135, and as long as trading is under this range, we can expect continued downward correction. The sellers are aiming for 1.2084, however, from a technical point of view, a low of 1.2044 will be more interesting, during the test of which I recommend taking profits. If the bulls manage to return to the level of 1.2135 in the morning, and this can happen only against the background of the latest positive rumors by Brexit, it is best to consider new short positions on a false breakdown from the weekly high of 1.2176, or on a rebound from the level of 1.2217.
Signals of indicators:
Moving averages
Trade is conducted in the region of 30 and 50 moving average, which indicates more on the lateral nature of the market.
Bollinger bands
In case of a breakthrough of the upper border of the indicator 1.2140, we can expect the resumption of an upward correction. A break of the lower border at 1.2115 will increase pressure on the pound.
Description of indicators
MA (moving average) 50 days – yellow
MA (moving average) 30 days – green
MACD: Fast EMA 12, Slow EMA 26, SMA 9
Bollinger Bands 20
The material has been provided by InstaForex Company – www.instaforex.com
Source:: GBP/USD: plan for the European session on August 22. The pound is having trouble returning to 1.2135