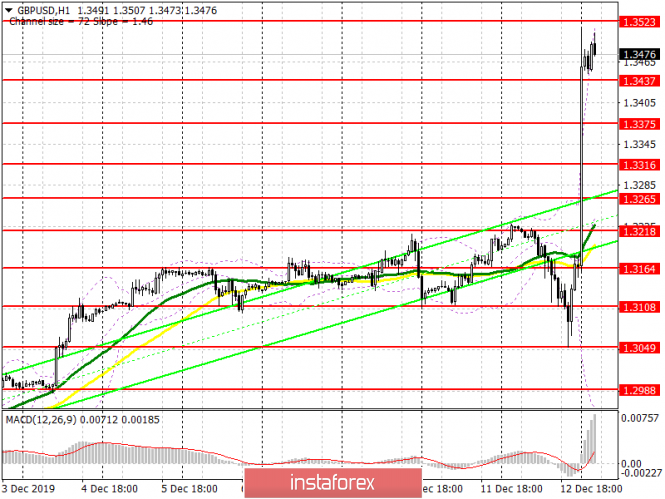 To open long positions on GBP/USD you need:
Brexit in one step. According to exit polls, the Conservative Party wins the elections in the UK and can get a majority in Parliament, which will allow the prime minister to realize his scenario for the country's withdrawal from the EU. Apparently, the growth of the pound will continue further. You can count on reaching the 40th figure in the medium term. The main driving force in GBP/USD will now be statements made after the election, as well as the results of the formation of the majority of the Conservative Party. With a downward correction of the purchase, you can look at 1.3437 and 1.3375, and it is best to immediately buy the pound for a rebound after testing the area of 1.3316. A break of the level of 1.3523 will lead to a new wave of growth for the pair with reaching highs 1.3604 and 1.3648 with the resistance test of 1.3698, where I recommend taking profit.
To open short positions on GBP/USD you need:
We don't have to talk about selling the pound now and it's better not to do it. In case the Conservative Party fails to form a majority in Parliament, this will lead to a sharp downward correction of GBP/USD to the area of lows 1.3375, 1.3316 and 1.3265, where large buyers will again enter the market. Under the scenario of further growth and development of the situation in favor of Boris Johnson, serious attempts to limit the upward trend will be visible only after updating the highs of 1.3563 and 1.3648. However, it is best to refrain from opening short positions in GBP/USD.
Signals of indicators:
Moving averages
Trade is conducted above 30 and 50 moving averages, which indicates further growth in the pound.
Bollinger bands
In case the pound falls, support will be provided by the average boundary of the indicator at around 1.3218.
Description of indicators
Moving average (moving average determines the current trend by smoothing out volatility and noise). Period 50. The graph is marked in yellow.
Moving average (moving average determines the current trend by smoothing out volatility and noise). Period 30. The graph is marked in green.
MACD indicator (Moving Average Convergence / Divergence – moving average convergence / divergence) Fast EMA period 12. Slow EMA period 26. SMA period 9
Bollinger Bands (Bollinger Bands). Period 20
The material has been provided by InstaForex Company – www.instaforex.com
Source:: GBP/USD: plan for the European session on December 13. Conservative Party wins the UK elections and can get a majority in