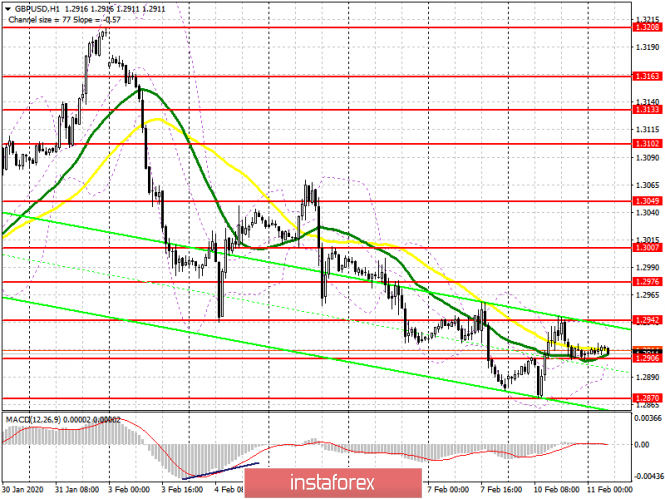 To open long positions on GBP/USD you need:
The British pound bounced yesterday after the divergence that formed on the MACD indicator, which made it possible for buyers to slightly recover after the pair's major fall, observed since the beginning of this month. At the moment, the bulls' important task is to maintain the support of 1.2906, however, only the formation of a false breakout in this range will be a signal to buy the pound, since a lot depends on how the UK economic growth report comes out in the fourth quarter of last year. If the data turn out to be better than economists' forecasts, and a zero increase is expected, then the bulls will try to break above the resistance of 1.2942, which will lead to continued growth of GBP/USD to the highs of 1.2976 and 1.3007, and the lower boundary of the new rising channel will be formed in the area of 1.2906. If the report disappoints traders, then after breaking through support for 1.2906, it is best to pay attention to long positions only after an unsuccessful consolidation below 1.2870, or buy the pound immediately to rebound from a low of 1.2830.
To open short positions on GBP/USD you need:
Sellers will rely on data on the UK economy, although a bad report may not provide much help to the bears, since few people believe in a good end to last year. The only thing that can positively affect the indicator is the results of general elections in the UK. A break and consolidation below 1.2906 will increase the pressure on the pair, which will lead to a sharp movement of the pound down to the support area of 1.2870, on which the further direction will depend. A breakout of this area will cause a larger drop in GBP/USD to the low of 1.2830 and 1.2799, where I recommend taking profits. In case the pair grows, one can look at short positions only after a false breakout in the resistance area of 1.2942, but I recommend selling the pound immediately for a rebound only after testing the highs of 1.2976 and 1.3007.
Signals of indicators:
Moving averages
Trade is conducted in the region of 30 and 50 moving averages, which indicates market equilibrium in front of important data.
Bollinger bands
A break of the upper boundary of the indicator in the area of 1.2934 will lead to a new wave of pound growth. The fall of GBP/USD will provide a breakthrough of the lower boundary of the indicator in the area of 1.2900.
Description of indicators
Moving average (moving average determines the current trend by smoothing out volatility and noise). Period 50. The graph is marked in yellow.
Moving average (moving average determines the current trend by smoothing out volatility and noise). Period 30. The graph is marked in green.
MACD indicator (Moving Average Convergence / Divergence – Moving Average Convergence / Divergence) Fast EMA period 12. Slow EMA period 26. SMA period 9
Bollinger Bands (Bollinger Bands). Period 20
The material has been provided by InstaForex Company – www.instaforex.com
Source:: GBP/USD: plan for the European session on February 11. Pound buyers hope for good GDP and Mark Carney speech. Bears wait