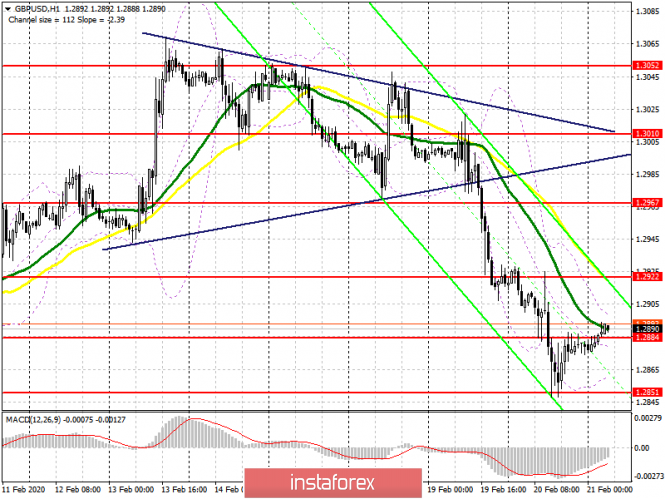 To open long positions on GBP/USD you need:
Buyers of the British pound were delighted with good data on retail sales, but the euphoria did not last long, and after an unsuccessful breakout of the resistance of 1.2925, the pair returned to a downward trend. At the moment, the bulls have coped with the task of regaining the resistance of 1.2884, and while trading above this level, we can count on growth to a high of 1.2922, as well as updating a larger resistance in the region of 1.2967, where I recommend taking profits. In case GBP/USD drops to the support level of 1.2884 in the morning, it is best to return to long positions on a false breakout from the low of the month at 1.2851, or open long positions immediately to rebound from levels 1.2830 and 1.2799. A false breakout at 1.2884 will be an additional signal to buy the pound after the release of data.
To open short positions on GBP/USD you need:
Expectations of trade negotiations between the UK and the EU put pressure on the British pound, since it is unlikely that Prime Minister Boris Johnson will be able to quickly find a common language with the leaders of the euro bloc. Sellers today will also rely on weak fundamental statistics on activity in the manufacturing sector and the service sector, which will allow them to return the pair to support 1.2884, and sell in the area of a low of 1.2851, a breakthrough of which will open a direct road to 1.2830 and 1.2799, where I recommend taking profit. If the reaction to the data is on the side of the pound buyers, then it is best to return to new short positions after the formation of a false breakout in the area of 1.2922, and you can sell GBP/USD immediately for a rebound from a high of 1.2967.
Signals of indicators:
Moving averages
Trading is carried out below 30 and 50 moving average, which saves the likelihood of continued decline in the pound.
Bollinger bands
If the pair decreases, the pound will be supported by the lower boundary of the indicator at 1.2860, and a break of the upper level at 1.2895 may lead to new purchases of the pound.
Description of indicators
Moving average (moving average determines the current trend by smoothing out volatility and noise). Period 50. The graph is marked in yellow.
Moving average (moving average determines the current trend by smoothing out volatility and noise). Period 30. The graph is marked in green.
MACD indicator (Moving Average Convergence / Divergence – Moving Average Convergence / Divergence) Fast EMA period 12. Slow EMA period 26. SMA period 9
Bollinger Bands (Bollinger Bands). Period 20
The material has been provided by InstaForex Company – www.instaforex.com
Source:: GBP/USD: plan for the European session on February 21. Pound plunged to regular lows a week before the start of negotiations