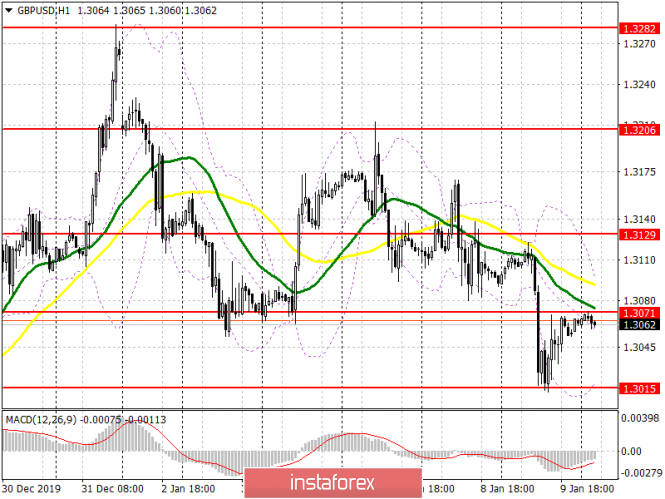 To open long positions on GBP/USD you need:
The British pound managed to regain its position against the US dollar against yesterday's sharp fall, which was formed after the speech of the Governor of the Bank of England Mark Carney. Let me remind you that Carney announced the possibility of lowering interest rates this year. However, the vote on the Brexit bill and its move to the House of Lords for approval retained optimism among pound buyers. Now the bulls need to regain the resistance of 1.3071, which from a technical point of view will return the market location. Only in this scenario can GBP/USD rise to the highs of 1.3129 and 1.3206, where I recommend taking profits. An equally important task will be to maintain support at 1.3015, which the bears tested yesterday. The next formation of a false breakout on it will be a signal to buy. Otherwise, it is best to open new long positions after updating lows 1.2971 and 1.2904.
To open short positions on GBP/USD you need:
Important fundamental statistics are not published today, and the whole emphasis will be reduced to data on the number of people employed in the non-agricultural sector of the United States. Sellers, in order to resume pressure on the pound, it is necessary to form a false breakout in the resistance area of 1.3071, which will be an additional signal to open short positions in the expectation of a further decrease and a breakdown of the low of 1.3015, from which a good upward rebound occurred yesterday. Consolidation below this range will push GBP/USD even lower to 1.2971 and 1.2904, where I recommend taking profits. If the bulls turn out to be stronger than sellers, and this can happen only after weak statistics on the US labor market and positive news on the Brexit bill, a return to 1.3071 will cause the pound to increase. In this scenario, it is best to rely on sales after updating the high of 1.3129, or on a rebound from a more powerful resistance of 1.3129.
Signals of indicators:
Moving averages
Trade returned again in the range of 30 and 50 moving averages, which indicates the preservation of the likelihood of the pound's growth after yesterday's decline.
Bollinger bands
A break of the upper boundary of the indicator at 1.3090 will lead to a new rising wave. In the event of a decline, support will be provided by the lower boundary of the indicator in the area of 1.3020.
Description of indicators
Moving average (moving average determines the current trend by smoothing out volatility and noise). Period 50. The graph is marked in yellow.
Moving average (moving average determines the current trend by smoothing out volatility and noise). Period 30. The graph is marked in green.
MACD indicator (Moving Average Convergence / Divergence – moving average convergence / divergence) Fast EMA period 12. Slow EMA period 26. SMA period 9
Bollinger Bands (Bollinger Bands). Period 20
The material has been provided by InstaForex Company – www.instaforex.com
Source:: GBP/USD: plan for the European session on January 10. Brexit bill moved to the House of Lords for approval