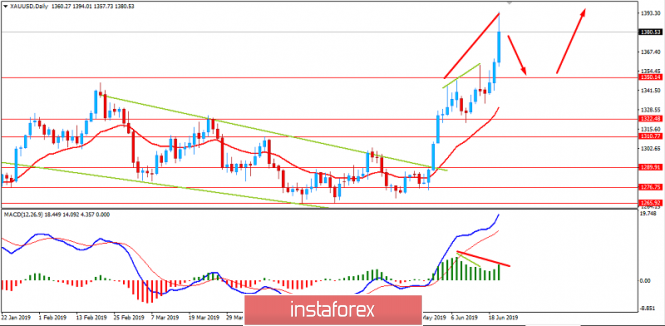 GOLD managed to climb impulsively after breaking above $1,300 with a daily under high volatility. The price formed Bearish Divergence along the way but bulls are setting the tone in the market.
One of the main factors for a sudden jump of the gold price is the dovish bias expressed by the US Fed at the policy meeting yesterday. This rhetoric made investors find a shelter in the precious metal as a safer investment than USD. The Fed kept its benchmark rate unchanged, but signaled it is ready to lower the key funds rate amid mounting risks to the economy from easing inflation and global trade tensions. Since early June, gold has only settled down twice as investors piled into the precious metal to hedge against a weaker USD that should nudge the Fed towards a rate cut.
Gold jumped to the highest mark in more than five years recently in a dramatic surge that brought it to nearly $1,400 an ounce. The crucial catalyst for gold gains this year is risk aversion sentiment among global investors who are interested in safe haven assets amid a slowdown in the global economy due to the lingering trade conflict between the US and China. Moreover, central banks around the world are getting increasingly concerned about slowing global growth amid the protracted trade war.
Meanwhile, the price is currently tarding at near $1,380 after rejecting around 30% of the today's high. A daily close today will indicate upcoming definite pressure in the commodity. The price is expected to go lower towards $1,350 as a pullback. Then, the price is going to bounce and climb higher with a target towards $1,500 in the coming days. As the price remains above $1,300 with a daily close, the price is gong to follow the overall bullish bias.
SUPPORT: 1,290, 1,300, 1,350
RESISTANCE: 1,400, 1,500
BIAS: BULLISH
MOMENTUM: NON-VOLATILE and IMPULSIVE
The material has been provided by InstaForex Company – www.instaforex.com
Source:: GOLD to extend gains? June 20, 2019