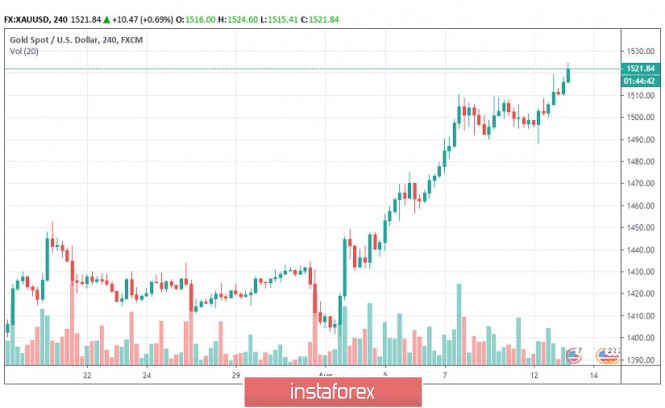 Mass protests in Hong Kong have reinforced political and economic fears, especially with the risk that US-China relations will deteriorate further. Gold has scope for further net gains with short-term support on any dips to $1,510 and any intervention in Hong Kong
After finding support just below $1,490 per ounce on Monday, gold posted measured net gains with a move back above $1,500 helping to underpin sentiment.
Confidence in the global trade and growth outlook has contributed to further underlying demand for safe-haven assets. Cryptocurrencies have been unable to make significant headway with gold securing increased demand as a prime safe-haven asset.
The situation in Hong Kong has provided a boost to gold demand. It increased sharply late in the Asian session with a push to fresh 6-month highs above $1,520 per ounce.
Pro-democracy protesters disrupted the main Hong Kong international airport and flights were suspended during Monday. Although flights have now resumed, there are still delays and the political situation remains tense with further protests planned at the airport.
There have been reports that mainland Chinese security forces are gathering in Shenzhen which increased concerns over possibility to deploy these forces in Hong Kong.
The rhetoric from Beijing has also become more aggressive due to the situation in Hong Kong described as terrorism.
Equity markets have weakened further with the Hang Seng index declining 2.0% on Tuesday to 2019 lows.
Any mainland intervention in Hong Kong would intensify political tensions between the US and China, with the Chinese authorities already accusing the US of being behind the protests. An escalation of the situation would make it even less likely that there will be progress in US-China trade talks.
From Beijing's perspective, Hong Kong could also provide a distraction from domestic economic concerns. Geo-political concerns would inevitably trigger further gold demand, especially given the impact on economic confidence.
Singapore's second-quarter GDP data missed expectations, reinforcing fears over the outlook. The Hong Kong economy remains a crucial regional trade hub and weakness would reinforce regional economic pressures.
US yields have continued to decline with the 10-year yield close to 34-month lows and economic fears would tend to push global bond yields even lower. If it comes true, net gold support will continue to increase.
The material has been provided by InstaForex Company – www.instaforex.com
Source:: Hong Kong fears trigger further gold gains, keep buying dips
Won't your trader friends like this?