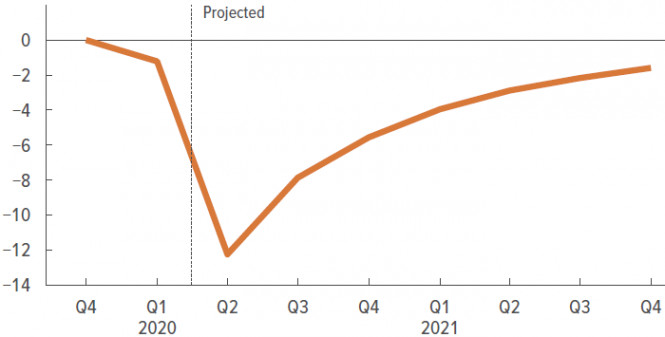 Having spilled over across the world, the coronavirus pandemic has affected the US economy. So, the CBO forecasts announced in January and May differ a lot. The US Congressional Budget Office said that between 2020 and 2030, the US total nominal GDP would fall by $15.7 trillion (5.3%), which is less than the forecast unveiled earlier this year. Towards the end of 2020, the nominal US GDP is expected to be $533 billion less than in the January forecast (a 9.4% drop). Besides, experts warn that GDP could shrink to $181 billion (by 2.2%) in 2030.
Retail sales are sure to drop due to the shutdown of businesses. Investments in the country's energy sector will also decrease due to the recent collapse in oil prices. Therefore, the US Congressional Budget Office also reduced its forecast for the real GDP.
The CBO assumes that towards the end of 2020, the real US GDP will be lower by $422 billion than it was estimated in January (see the chart below). Analysts might see the green shoots of recovery only by the end of 2030. Thus, the total real US GDP over this period will be cut by $7.9 trillion.
The massive stimulus package approved by Congress will help to revive the US economy. However, experts find it hard to reckon the actual damage from the COVID-19 pandemic to the national economy in the coming years. The question is open how this will impact on the US economy. In other words, further revision of forecasts will follow.
The material has been provided by InstaForex Company – www.instaforex.com