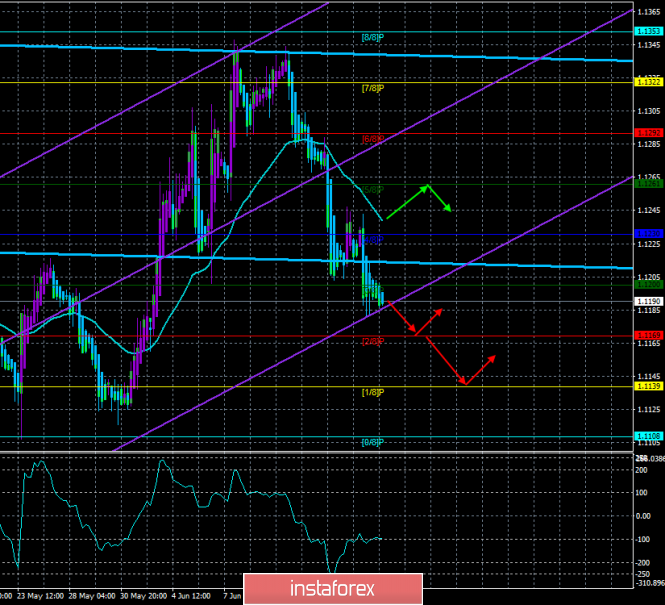 4 hour timeframe
Technical details:
The upper linear regression channel: direction – down.
The lower linear regression channel: direction – up.
The moving average (20; smoothed) – down.
CCI: -98.1574
Tuesday, June 18, was held for EUR / USD in the next fall after Mario Draghi declared his readiness to use any monetary policy instruments in order to stop the inflation slowdown and bring it to the target level, which, we recall, is 2.0 %. Mario Draghi did not have time to finish his speech in the Portuguese city of Sintra, as US President Donald Trump reacted to his words. Trump criticized Draghi's words, considering them deliberate in order to lower the euro against the US dollar. According to Trump, the Bank of China is also engaged in the artificial devaluation of the national currency, all of which makes their countries and economies more competitive in world markets and, in particular, in trade relations with the United States. On one hand, Trump is right, as the European Union really becomes easier to trade with the United States at a low cost of the euro. On the other hand, Trump intervenes again in issues that are completely outside his competence. Moreover, working with the currency rate is one of the instruments of monetary policy, and the States can use it just as much as the EU. However, in America, the Fed is in charge of monetary policy, which is not subject to Trump, so the US leader cannot influence it, which forces him to accuse all other countries of artificially devaluing their monetary units. Euro currency, meanwhile, continues to fall against the US dollar, which may cause in the near future a new stream of angry comments from the odious US leader, who recently announced the start of the election campaign.
Nearest support levels:
S1 – 1.1169
S2 – 1.1139
S3 – 1.1108
Nearest resistance levels:
R1 – 1,1200
R2 – 1.1230
R3 – 1.1261
Trading recommendations:
The EUR / USD currency pair has resumed its downward movement. Thus, sales of the euro / dollar pair with targets of 1.1169 and 1.1139 are now recommended again.
It is recommended to buy euro currency after traders fix a pair above the moving average line, which will change the upward trend, with the first targets at 1.1261 and 1.1292.
In addition to the technical picture, we should also take into account the fundamental data and the time of their release.
Explanations for illustrations:
The upper linear regression channel is the blue lines of unidirectional movement.
The lower linear regression channel is the violet lines of unidirectional movement.
CCI – blue line in the indicator window.
The moving average (20; smoothed) is the blue line on the price chart.
Murray levels – multi-colored horizontal stripes.
Heiken Ashi is an indicator that colors bars in blue or purple.
The material has been provided by InstaForex Company – www.instaforex.com
Source:: Overview of EUR / USD on June 19. The forecast for the "Regression Channels" system. Trump blames ECB and Bank of China for