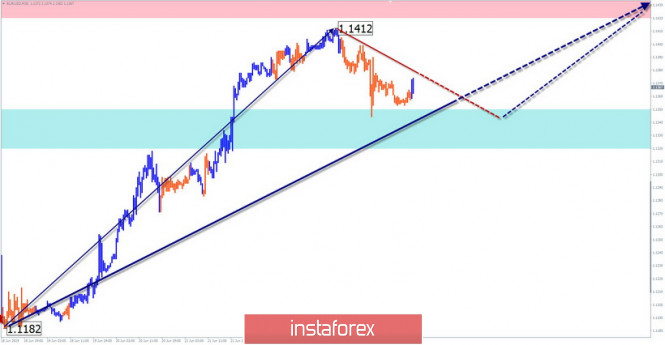 EUR/USD
An upward wave is developing on the chart of the European pair. The current wave level of movement allows us to classify it as a correction of the last section of the long-term wave from the beginning of 2018. The lower limit of the preliminary target zone is in the area of one and a half price figures from the current rate of the pair. In the final section since yesterday, the price rolls back down.
Forecast:
During the next sessions, it is expected to complete the downward movement and return to the main course. The change of the motion vector is most likely at the end of the day.
Recommendations:
Euro sales today are unpromising. In the area of calculated support, it is recommended to track reversal signals in order to search for entry into long positions.
Resistance zone:
– 1.1420/1.1450
Support zone:
– 1.1350/1.1320
AUD/USD
At the end of the main downward trend on May 20, an upward correction wave develops. Its structure has the wrong look. On the chart, the whole wave has the shape of an "expanding triangle". The price is approaching the lower limit of the preliminary target zone.
Forecast:
Today, the upward mood of the movement is expected to continue until its completion. By the end of the day, there is a high probability of the beginning of counter recoil.
Recommendations:
In the next few sessions, the pair has the greatest potential. Selling today can be risky, due to the likely sharp pullbacks.
Resistance zone:
– 0.7000/0.7030
Support zone:
– 0.6950/0.6920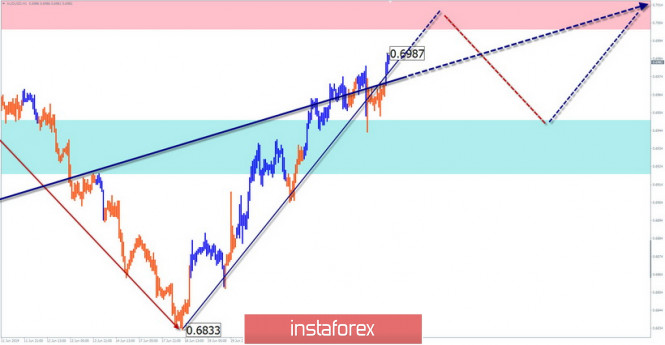 Explanations to the figures: Waves in the simplified wave analysis consist of 3 parts (A-B-C). The last unfinished wave is analyzed. Zones show areas with the highest probability of reversal. The arrows indicate the wave marking according to the method used by the author, the solid background is the formed structure, the dotted ones are the expected movements.
Note: The wave algorithm does not take into account the duration of tool movements over time.
The material has been provided by InstaForex Company – www.instaforex.com
Source:: Simplified wave analysis and forecast for EUR/USD and AUD/USD on June 26
Won't your trader friends like this?