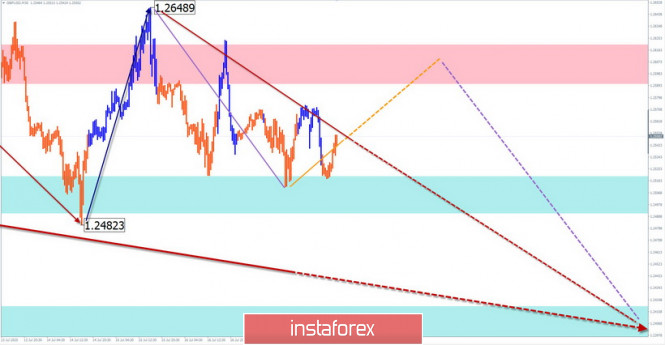 GBP/USD
Analysis:
Since the end of March, the quotes of the British currency form a horizontal plane. The wave corrects the upward trend section of the daily scale. Sets the direction of the short-term trend bearish wave from June 10. Within the middle part (B), the price formed a pullback in the form of a "pennant" over the past week.
Forecast:
Today, on the pair's chart, price movements are likely mainly in the lateral plane. An upward pullback is expected in the next session. In the area of the resistance zone at the end of the day, you can expect a reversal and a second decline. If the nearest support breaks through, you should expect a decline to the next zone.
Potential reversal zones
Resistance:
– 1.2590/1.2620
Support:
– 1.2520/1.2490
– 1.2420/1.2390
Recommendations:
Today, trading the pound in the market is appropriate within the intraday framework. In the first half of the day, purchases with a reduced lot are possible. At the end of the day, it is recommended to look for signals to sell the instrument.
AUD/USD
Analysis:
An upward trend has been forming on the Australian dollar chart for the past six months. Since June 9, the pair's quotes in the area of strong resistance form a correction in the form of a side plane. Its structure is nearing completion.
Forecast:
Today, the overall purple mood of the pair's movement is expected. In the first half of the day, pressure on the support zone is likely. A short-term puncture of its lower border is not excluded. By the end of the day, you should expect a change in the exchange rate and the beginning of a price rise.
Potential reversal zones
Resistance:
– 0.7050/0.7080
Support:
– 0.6970/0.6940
Recommendations:
Trading the pair today is appropriate in the coming sessions. The sales potential is small. We recommend that you focus on searching for signals to buy a pair.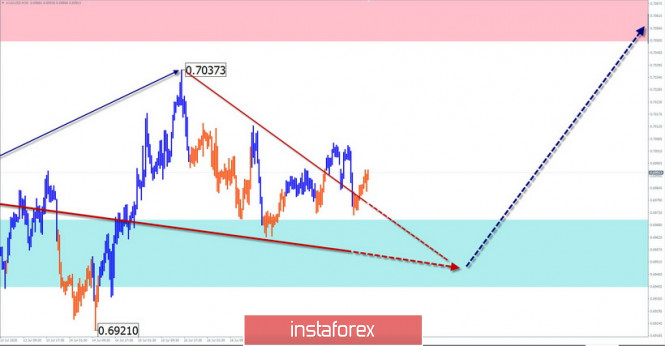 Explanation: In the simplified wave analysis (UVA), waves consist of 3 parts (A-B-C). The last incomplete wave is analyzed. The solid background of the arrows shows the formed structure, and the dotted one shows the expected movements.
Note: The wave algorithm does not take into account the duration of the tool movements in time!
The material has been provided by InstaForex Company – www.instaforex.com
Source:: Simplified wave analysis and forecast of GBP/USD and AUD/USD for July 20
Won't your trader friends like this?