I wrote about oil refiners – and the phenomenal performance of their stocks – on Monday. Today I'm writing about another energy sector that has been hot the last few weeks; namely, solar stocks.
Let's take First Solar (Nasdaq:FSLR), for example. Here's a stock that's gone from $70/share 6 months ago to $40/share 1 month ago, and now almost back to $60.
FSLR's all-time high is over $300, back in the summer of 2008. The stock spent the rest of '08 crashing, but then stabilized until February 2011, when FSLR peaked around $175 before crashing all the way to $12 in May 2012 (see chart from Yahoo! Finance, below). From that low point, FSLR enjoyed a nice, even, steady uptrend for the next 2 years. On June 20, 2014, when oil peaked at just above $107/barrel, FSLR was trading around $70 per share. FSLR's $30 haircut from June 2014 – January 2015 almost perfectly coincided with oil's big decline. Solar investors, of course, understand that solar becomes a more attractive energy alternative when oil prices are high, and vice versa.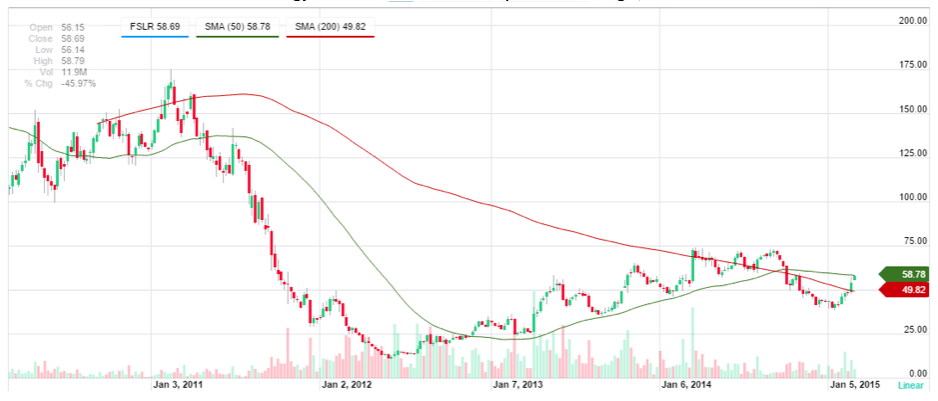 Now, since the end of January, FSLR has started outperforming the broader energy sector, as represented by XLE (see chart below). Today, in fact, FSLR surged past its 200-day moving average.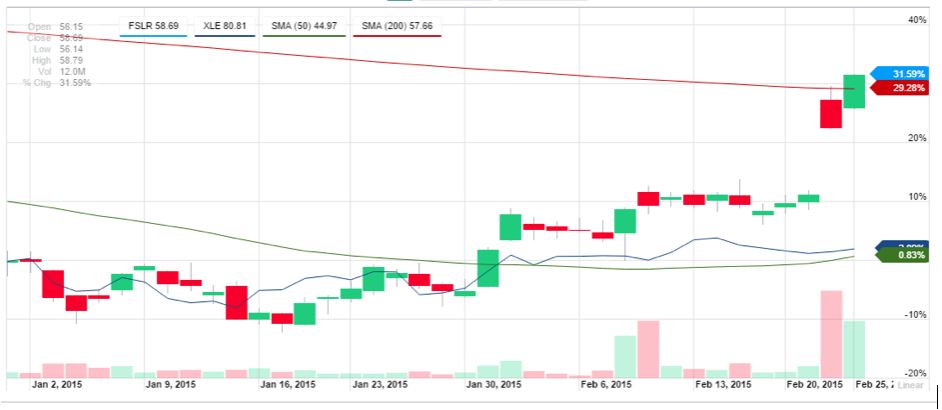 Of course, investors interested in solar could choose to simply invest in the Guggenheim Solar ETF (NYSEArca:TAN). With a net expense ratio of about 0.71%, TAN tracks an index of about 29 solar stocks. FSLR comprised about 8.18% of TAN's holdings as of 2/24/15, according to Guggenheim. Further, slightly less than 50% of TAN's geographic weighting goes to U.S. companies. China weighs in at nearly 23% of the fund's assets, and Hong Kong-based manufacturers amount to about 21%.
FSLR's performance over the last 30 days (through Feb. 24th) exceeds TAN's performance by a score of +23.1% to +19.0%, according to Morningstar. FSLR's margin of victory will have widened after markets close on Feb. 25th, assuming its +7% daily gain holds up. However, TAN has slightly outperformed FSLR, over the last 3 months and 12 months, and has significantly outperformed FSLR over the past 3- and 5-year periods.
Nevertheless, FSLR is an established player with a solid balance sheet and a robust sales pipeline. Furthermore, FSLR's management has demonstrated strong capabilities in the past, and is now working on aggressive projects to reduce the cost of solar power and expand the enterprise. One risk (to either FSLR or TAN) could be lower demand if, in fact, U.S. government incentives go away after 2016, in accordance with current law.
Whether you prefer FSLR, TAN, or another way to play this sub-industry, keep in mind solar power made up only about 0.32% of all power consumption in the U.S. in 2013 – but that's up from 0.07% in 2007, and the rise has been steady. Wind power, incidentally, has seen similar gains and is a little farther along the adoption curve, comprising about 1.64% of U.S. consumption in 2013. First Trust has a global wind energy ETF (NYSEArca:FAN) that's been trading range-bound for the last 6 months after a 4-month, 25% decline last summer.
Best,
Adam Feik
INO.com Contributor – Energies
Disclosure: This contributor does not own any stocks mentioned in this article. This article is the opinion of the contributor themselves. The above is a matter of opinion provided for general information purposes only and is not intended as investment advice. This contributor is not receiving compensation (other than from INO.com) for their opinion.
This post first appeared INO.com