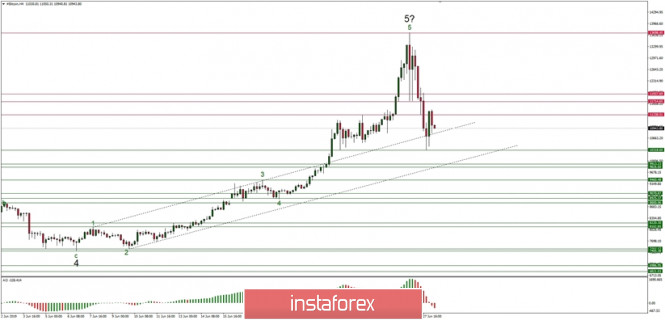 Crypto Industry News:
The last series of appreciation on the cryptocurrency market was initiated by the latest Facebook project, which announced the will to offer its own Libra cryptocurrency. This attracted more interest in the market and retail investors who supported the price increase. Traders are also looking for alternatives to traditional markets such as gold and US bonds due to worries about the weakening global economy and trade tensions between the US and China. However, the Thursday's unexpected depreciation shows that Bitcoin – like the instruments in many other asset classes – can suddenly reverse even the strongest trend.
Technical Overview:
Thursday's session is unquestionably the worst in Bitcoin's performance since December 2017, when it was suddenly moving down from historical maxima. First, on Wednesday, Bitcoin recorded a temporary flash crash, which within 15 minutes led to a drop in value by 8%, then throughout the whole of Thursday continued to decline, finally testing the level of $10,400. On the daily chart, a down candle with a range of -16% was created, which is the largest one-day slip for 30 months. In this way, it was possible to bear up to three days of increases in one day.
At the beginning of this week, the BTC exchange rate tested 18-month highs just below the level of $13,698, while in the second half of the week it definitely loses. The largest cryptocurrency available in circulation is in a strong uptrend since the beginning of April, gaining 260% since then, but it still lags behind the historical highs of around 20,000 dollars achieved in December 2017.
Weekly Pivot Points:
WR3 – $14,368
WR2 – $12,738
WR1 – $12,143
Weekly Pivot – $10,500
WS1 – $9,956
WS2 – $8,295
WS3 – $7,678
Trading Recommendations:
The best strategy in the current market conditions is to trade with the larger timeframe trend, which is still up. All the shorter timeframe moves are being treated as a correction inside of the uptrend. The larget correction is just around the corner, as all the major impulsive waves have been completed.
The material has been provided by InstaForex Company – www.instaforex.com