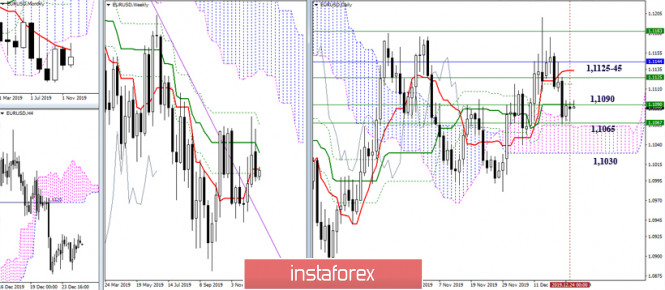 EUR / USD
Before the holiday weekend, the situation has not changed. The pair remained between the resistance of 1.1090 (daily Kijun + weekly Tenkan) and the support of 1.1065 (Senkou Span A + weekly Fibo Kijun + daily Fibo Kijun). At the same time, there is now uncertainty in the preponderance of forces with a slight predominance of players to increase. Their return of support for the daily medium-term trend and the weekly short-term will open the way to the next important resistance zone of 1.1145-25 (daily short-term trend + weekly medium-term trend + monthly short-term trend) . If the downgrade players manage to overcome the support line of 1.1065, then the pair will have a daily cloud and the strongest daily support is a long-term trend (Senkou Span B 1.1030).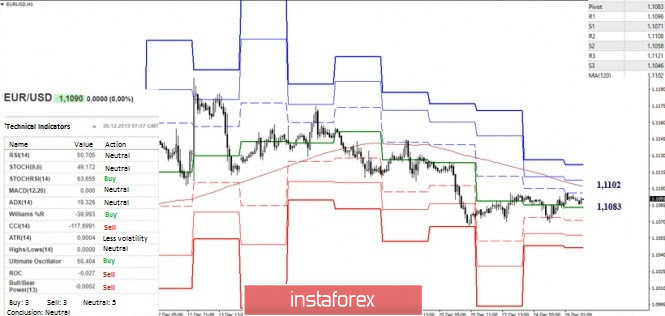 In the past working days, the couple continued the struggle for the central Pivot level. As a result, this level plays the role of support again today which is at 1.1083 and defends the interests of players to increase. The next significant level for the development of the upward correction is now located at 1.1102 (weekly long-term trend). Another loss of central Pivot will return the relevance of testing the strength of the minimum extremum of 1.1066, overcoming which will continue the downtrend. Resistances of the classic Pivot levels are located today at 1.1096 – 1.1108 – 1.1121, while the supports are at 1.1071 – 1.1058 – 1.1046.
GBP / USD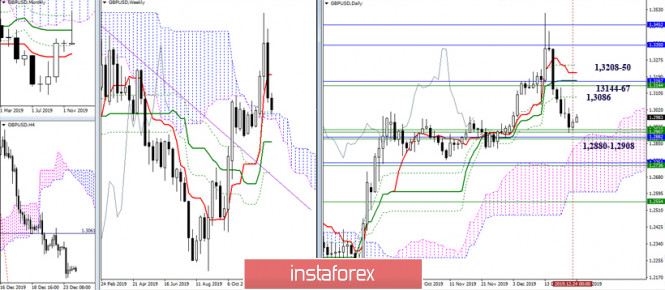 As expected, it was not possible to overcome the support they met immediately since several strong levels are concentrated in this support zone which is at 1.2880 – 1.2908 (weekly cloud + monthly Fibo Kijun + weekly Fibo Kijun). With further restoration of positions by players on the increase, the pair are waiting for the resistance of 1.3086 (daily Fibo Kijun) – 1.3144-67 (weekly Tenkan + monthly Kijun + daily Kijun) and 1.3209-50 (daily Tenkan + Fibo Kijun) .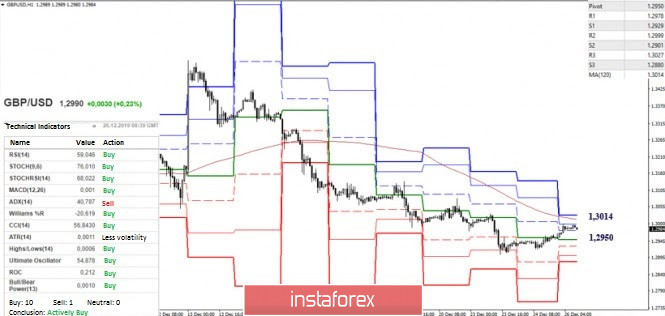 In the lower halves, an upward correction develops. Rising players are now supported by almost all of the analyzed technical indicators and are close to testing the key resistance at H1, a weekly long-term trend located at 1.3201. Reliable consolidation above will allow us to consider the development of an upward correction in high halves and new benchmarks. Failure to cope with resistance will return the pair to supports, among which today we can distinguish 1.2950 as central Pivot level and 1.2880 as S3 of classic Pivot levels.
Ichimoku Kinko Hyo (9.26.52), Pivot Points (classic), Moving Average (120)
The material has been provided by InstaForex Company – www.instaforex.com
Source:: Technical analysis recommendations for EUR / USD and GBP / USD for December 26