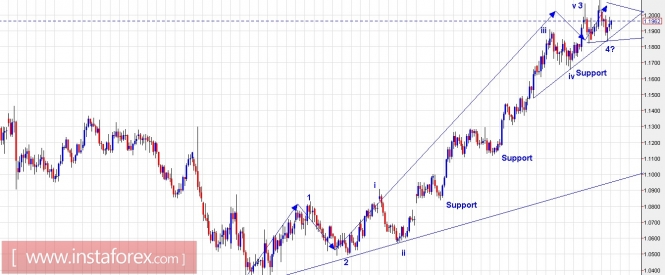 Technical outlook:
EUR/USD bulls still remain in control but believe it or not, the upside is extremely limited. At this point in time, the pair is consolidating into a probable flat or a triangle before pushing higher one last time. We have to remain a bit patient here as the consolidation structure is unfolding and furthermore a meaningful top is being formed. Let us not speculate on a potential top formation and allow prices to dictate the same. It is good to prepare for short positions but committing then right now would be too risky. A considerable resistance should be seen around 1.2200/50 levels going forward, so please be prepared to sell around those levels. At this point, immediate support is seen around 1.1830 levels, while resistance is just below 1.2092 levels respectively. A break below 1.1800 and subsequently 1.1650 levels would confirm a meaningful top is in place.
Trading plan:
Please remain flat for now and look to sell on a new high above 1.2100 levels.
GBP/USD chart setups: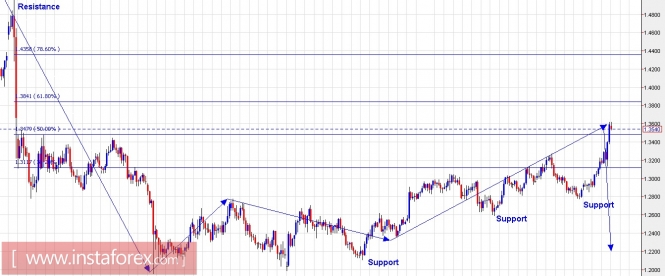 Technical outlook:
GBP/USD has rallied above expectations and a strong bull trend persists with no signs of a reversal yet. Believe it or not the pair is firmly within strong resistance zone around 1.3600/1.3700 levels, but a bearish reversal is still not confirmed. Rather than speculating on a top, we shall remain flat for now and wait for the first 5 waves (impulse) at a lower degree. A daily chart has been presented here to have the bigger picture in mind again, and that is indicating a 50% retracement of the drop between 1.5000 through 1.2000 levels respectively. A major bearish reversal shall be confirmed on a break below 1.2800 levels going forward. At this point it is good to remain flat, waiting for yet another potential top and a bearish drop in 5 waves. We shall confirm the same here, watch out for resistance around 1.3650/1.3700 levels.
Trading plan:
Please remain flat for now and look to go short again around 1.3650/1.3700 levels.
Fundamental outlook:
Watch out for Bank of England Governor Mr Carney's speech today at IMF, at 11:00 AM EST.
Good luck!
The material has been provided by InstaForex Company – www.instaforex.com
Source:: Trading Plan for EUR/USD and GBP/USD for September 18, 2017
Won't your trader friends like this?