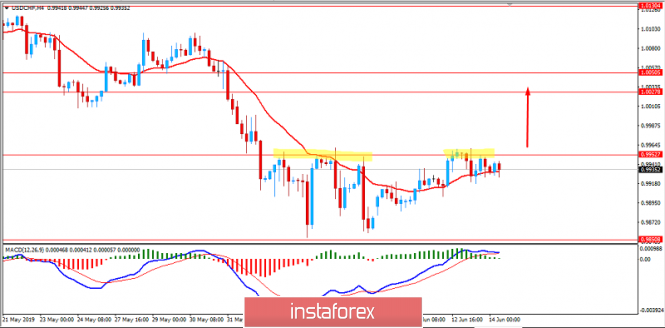 USD/CHF has been consolidating at near the 0.9950 resistance area after several the price has been rejected off the area a few times.
The Swiss National Bank kept the ultra-loose monetary policy unchanged. The policy update was revealed yesterday in the Monetary Policy Assessment and Press Conference. The officials took such decision on the back of rising trade tensions between the US and China. They expressed concerns that the safe-haven CHF remains overvalued. The SNB kept the interest rate unchanged at the negative territory as the foreign exchange market is defined as fragile.
The SNB policy rate replaces the target range for the three-month Libor used previously, and currently stands at -0.75%. This move will seek to keep the secured short-term CHF forex rates close to the SNB policy rate. Interest rates have remained unchanged for 4.5 years. Most of the analysts say they expect no change to the sight deposit rates until 2021 at the earliest.
On the other hand, investors are betting on the rate cut by the Federal Reserve in July. Some experts assess a 65% chance that the US central bank will cut rates twice this year. Moreover, US President Donald Trump's attacks on the Federal Reserve promped the central bank to revise its rhetoric. Besides, ongoing uncertainty in the global trade due to tariff threats makes the US economic outlook harder than ever to predict. The surprise announcement in early May of higher tariffs on China and a threat of higher levies on Mexican imports added to the minefield the Fed must now navigate.
Today US Retail Sales report is going to be published which is expected to have a rebound to 0.7% from the previous negative value of -0.2% and Core Retail Sales could have increased to 0.5% from the previous value of 0.1%.
To sum up, USD maintains momentum ahead of optimistic economic reports yet to be published. On the other hand, market sentiment on CHF is neutral in light of the latest policy update from the SNB.
Now let us look at the technical view. The price is currently trading below 0.9950 area with a daily close for certain period. The price is at the verge of breaking above the area. So, the price is expected to extend a climb with a target towards 1.0050. As the price remains above 0.9850 area with a daily close amid the current bullish momentum, it will reinforce the bullish bias for the short term.
The material has been provided by InstaForex Company – www.instaforex.com
Source:: USD/CHF: USD to regain momentum above 0.9950? June 14, 2019
Won't your trader friends like this?