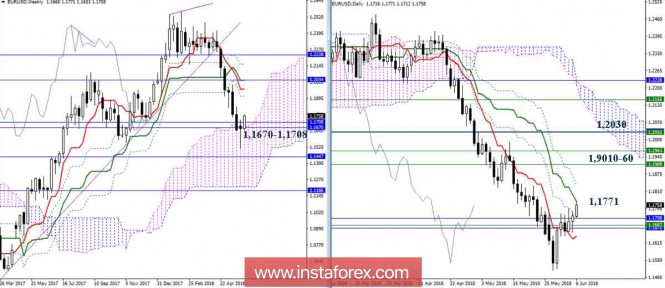 EUR / USD
The power of bearish sentiment and plans continues to hold the pair in the area of zone 1.1670-1.1708, turning it into a center of attraction and not letting players to say goodbye to the weekly cloud in order to confidently gain a foothold in the monthly cloud. Today, the daily Kijun (1.1771) descended to the scene of events. Perhaps, the elimination of the day's dead cross will help players to overcome the zone of attraction to increase, and finally, turning it into support, they will be able to continue the ascent. The following resistance, in this case, should be noted in the area of 1.1910-60 (weekly Fibo Kijun + week Tenkan) and at 1.2030 (weekly Kijun + monthly Tenkan). At the present moment, at the lower halves, we see that the pair is trying to go beyond the spent target to breakdown of the H1 cloud, this will allow us to continue the ascent to the next upward target (the goal for the breakdown of the H4 cloud). Overcoming the resistance of target H4 (1.1829) coincides with the change of the day's dead cross. Today, the support can be noted on 1.1710 – 1.1670 – 1.1640-20.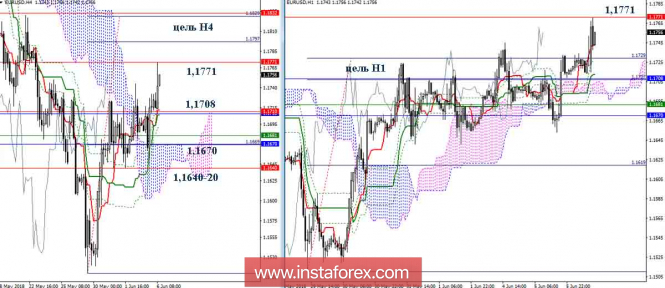 Indicator parameters:
All time intervals 9 – 26 – 52
The color of indicator lines:
Tenkan (short-term trend) – red,
Kijun (medium-term trend) – green,
Fibo Kijun is a green dotted line,
Chinkou is gray,
Clouds: Senkou Span B (SSB, long-term trend) – blue,
Senkou Span A (SSA) – pink.
The color of additional lines:
Support and resistance MN – blue, W1 – green, D1 – red, H4 – pink, H1 – gray,
Horizontal levels (not Ichimoku) – brown,
Trend lines – purple.
The material has been provided by InstaForex Company – www.instaforex.com
Source:: The daily review of EUR / USD as of June 6, 2018. Ichimoku Indicator