The XAGUSD pair hints at the development of a long correction wave b of the cycle degree.
Wave b, judging by the shape, is a primary triple zigzag Ⓦ-Ⓧ-Ⓨ-Ⓧ-Ⓩ.
The final wave Ⓩ will be an intermediate triple zigzag (W)-(X)-(Y)-(X)-(Z). It seems that the formation of the actionary intermediate wave (Y) has recently come to an end. This took the form of a standard zigzag pattern.
Now we are observing the construction of the initial part of the intermediate intervening wave (X). This can also take the form of a minor zigzag A-B-C, as shown in the chart.
The end of the wave (X) is expected to reach 23.334. At that level, it will be at 50% of sub-wave (Y).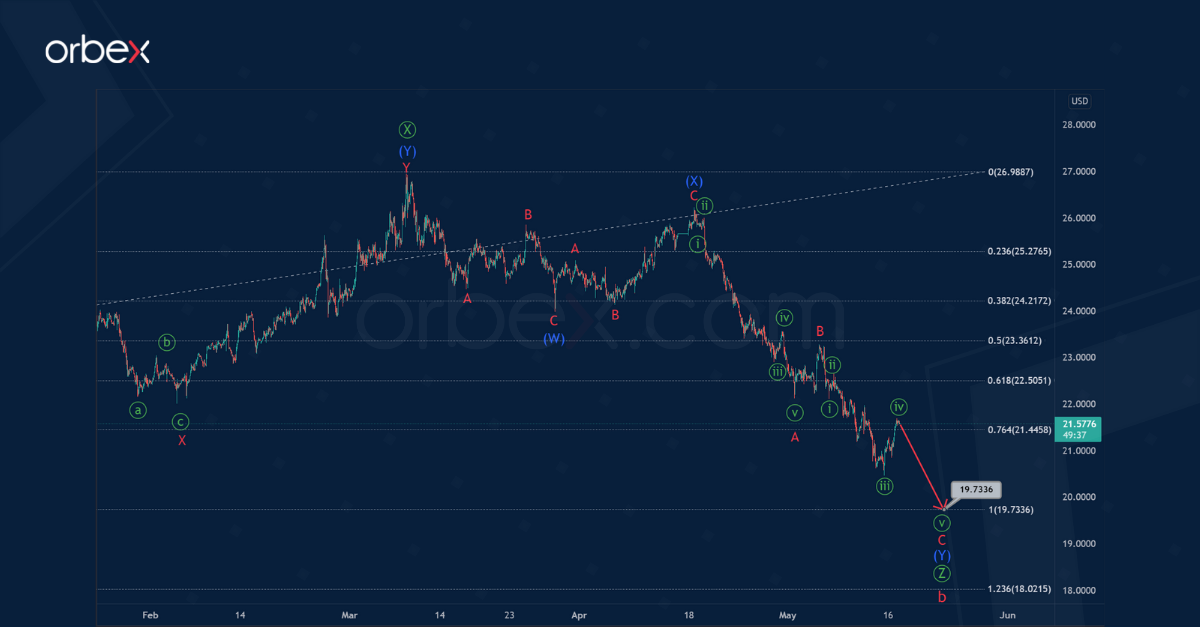 The alternative scenario indicates that the bearish primary wave Ⓩ could end in the form of a double zigzag (W)-(X)-(Y), and much earlier than expected in the main scenario.
Most likely, the market is now in the final part of the actionary wave (Y), or rather in its final minor sub-wave C.
It is likely that wave C will end in the form of a minute impulse near 19.733. At the indicated price point, primary wave Ⓩ will be equal to previous actionary wave Ⓨ.