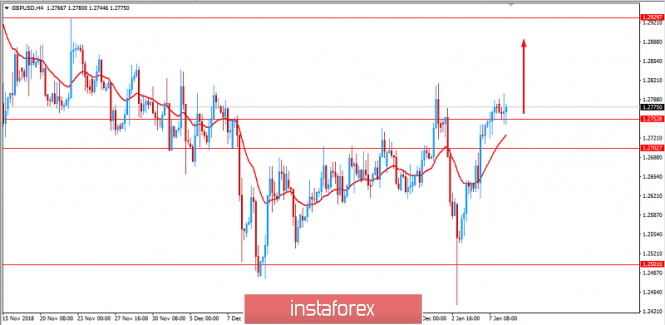 GBP/USD recently jumped impulsively higher above 1.2700-50 resistance area, engulfing the previous bearish pressure in the process. The BREXIT deal is still quite uncertain. USD is struggling for gains amid the recent economic reports. Thus, temporary weakness of USD enabled GBP to gain certain momentum.
Ahead of BREXIT, assets worth $1 trilling (800 billion pounds) are being shifted to the European Union before the deal is approved. According to UK Financial Services leader Omar Ali, as the Brexit deadline of 29th March 2019 is approaching and the deal is not settled yet, the more assets will be transferred and relocated. Moreover, after BREXIT UK financial firms will be affected due to hardship of business with the European Union. On the other hand, approval of PM Theresa May's deal is expected to trigger higher volatility in the market which might nudge GBP to lose grounds in the coming days. Today UK Halifax HPI report was published with a significant increase to 2.2% from the previous value of -1.2% which was expected to be at 0.5%. The positive economic result helped the currency to sustain momentum against USD ahead of high impact US events this week.
On the other hand, USD has been weighed down due to worse-than-expected employment reports published recently. Additionally, ISM Non-Manufacturing PMI report showed a decrease to 57.6 from the previous figure of 60.7 which was expected to be at 59.6. The worse economic print put a lid on USD gains, helping GBP to sustain the bullish momentum in the pair. Ahead of FED Chairman Powell's speech and FOMC Meeting this week, the pair could trade with higher volatility this week.
Meanwhile, GBP has found support from solid fundamentals. It is expected to assert strength for a certain period against USD until any downbeat fundamental related to BREXIT affects the overall economic health of the UK. Though USD may regain momentum in the long run, upbeat economic data and optimistic economic expectations for the upcoming reports from the UK are going to inject some bullish pressure in the pair.
Now let us look at the technical view. The price is currently residing above 1.2700-50 area with certain bullish pressure, while rejecting the bearish momentum consistently. The price has formed a V-shaped bullish pattern which is expected to push the price higher towards 1.2950-1.30 resistance area in the coming days. As the price remains above 1.2700 with a daily close, the pair is expected to retain the bullish pressure.
SUPPORT: 1.2700-50
RESISTANCE: 1.2850, 1.2950, 1.30
BIAS: BULLISH
MOMENTUM: VOLATILE
The material has been provided by InstaForex Company – www.instaforex.com
Source:: Fundamental Analysis of GBP/USD for January 8, 2019
Won't your trader friends like this?