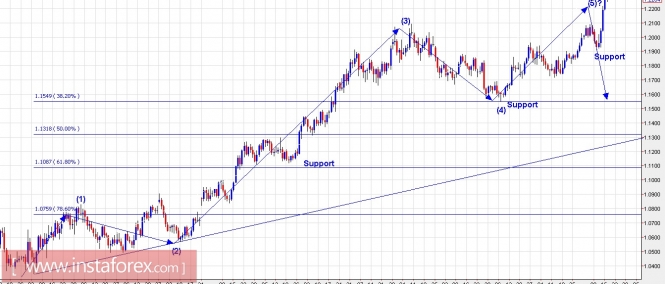 Technical outlook:
We present the bigger picture again for the EUR/USD pair. If you look closely here, the 5th wave also might be complete above 1.2200 handle. The pair has completed an impulse from January 2017 through January 2018, and if the above count holds to be true, the pair is likely to drop lower in 3 waves at least to correct the entire rally. On the flip side, the current impulse could be a part of the overall corrective rally that began in 2015. If that is the case, EUR/USD should resume its long term down trend from nearby levels. In both cases presented here, the common point is a corrective drop at least and hence one should be preparing to go short. We shall be presenting a short very soon on confirmation.
Trading plan:
Prepare to go short again.
US Dollar Index chart setups: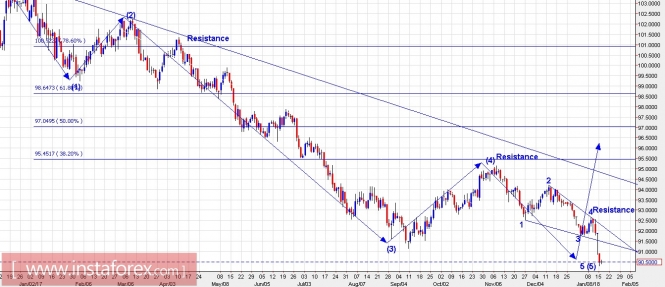 Technical outlook:
The US Dollar index bigger picture has been presented here on its daily chart view. The index seems to have completed 5 waves impulse from 103.80 levels through 90.30 levels respectively. There could be a bottom formed very close to where prices are right now and trigger a bull run going forward. There are two scenarios, presented here. If 5 wave impulse is complete around these levels, the index should at least produce a corrective rally (3 waves) which could push prices through 98.50 levels at least. If the current impulse is a part of the larger correction that began in 2015, then the larger uptrend should resume and push prices above 93.80 levels going forward. In both scenarios, the US Dollar Index should be poised to stage a rally through 98.50 levels at least. We shall present a case here to initiate long positions once confirmed.
Trading plan:
Please prepare to go long.
Fundamental outlook:
GBP Consumer Price Index to be out at 0430 AM EST.
Good luck!
The material has been provided by InstaForex Company – www.instaforex.com
Source:: Trading Plan for EUR/USD and US Dollar Index for January 16, 2018