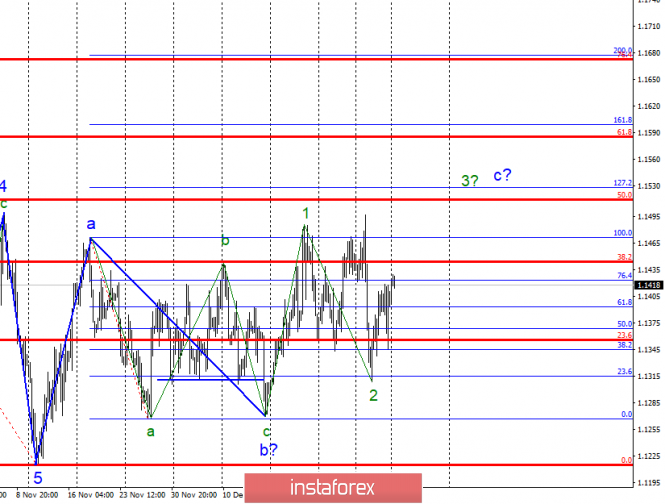 Wave counting analysis:
During the bidding on Friday, January 4, the pair EUR / USD ended with an increase of 5 basis points. Thus, the estimated wave 3 in s continues to be built with targets that are near the level of 127.2% and higher. The wave marking is not entirely unambiguous, the expected wave 2 in s has adopted a non-standard three wave form. Nevertheless, the minimum of wave 2 in s is now an important point of support for building the entire uptrend of the trend, originating from November 13 last year.
Sales targets:
1.1315 – 23.6% Fibonacci
1.1266 – 0.0% Fibonacci
Shopping goals:
1.1528 – 127.2% Fibonacci
1.1599 – 161.8% Fibonacci
General conclusions and trading recommendations:
The pair continues to build a wave and the entire portion of the trend, taking its beginning on November 13. Thus, now I recommend buying in small volumes (due to the ambiguous type of current wave marking) with targets located near the marks of 1.1528 and 1.1599, which corresponds to 127.2% and 161.8% Fibonacci. The correctional status of the current trend section leads to frequent corrections and rollbacks.
The material has been provided by InstaForex Company – www.instaforex.com
Source:: Wave analysis of EUR / USD for January 7. With a "creak", but the euro continues to rise