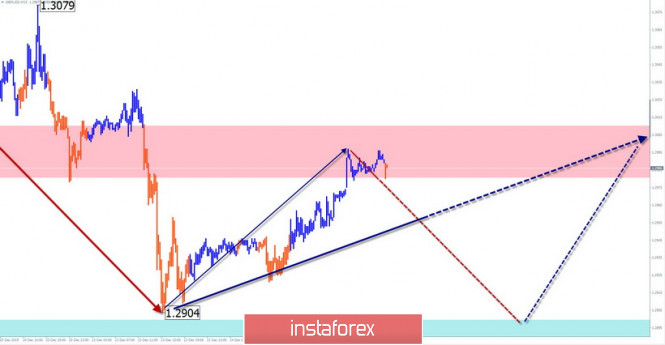 GBP/USD
Analysis:
A downward wave has been forming on the chart of the British pound since December 13. It can take the place of a correction in the main structure or give rise to a wave of a new short-term trend. The price reached the support zone, from which the formation of an upward pullback began.
Forecast:
In the coming day, the most likely scenario for the price movement will be a planned depreciation in the side corridor between the nearest zones. A breakthrough in the upper border of the resistance zone is expected in the next days but it is possible today.
Potential reversal zones
Resistance:
– 1.2980/1.3010
Support:
– 1.2900/1.2870
Recommendations:
Today, only intra-session trading is possible on the pound market. Purchases have more potential. You need to track the signals for them only after the price rollback is formed.
USD/JPY
Analysis:
The current upward wave of the instrument since the beginning of August has the potential for further growth. The price of the yen has reached the zone of a potential reversal, which began to form a hidden correction. Its structure is not complete.
Forecast:
Today, there is a high probability that the current flat sentiment from last week will continue. In the first half of the day, a downward vector is likely. By the end of the day, the exchange rate is expected to change and the price will start to rise.
Potential reversal zones
Resistance:
– 109.80/110.10
Support:
– 109.20/108.90
Recommendations:
The main attention today in the yen market should be paid to the search for buy signals. Sales are possible with a small lot, taking into account the probability of sharp counter-rollbacks.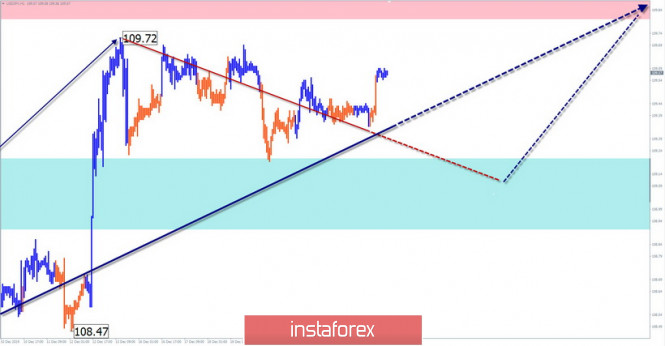 Explanations: In the simplified wave analysis (UVA), waves consist of 3 parts (A-B-C). The last incomplete wave is analyzed. The solid background of the arrows shows the formed structure, the dotted background shows the expected movements.
Attention: The wave algorithm does not take into account the duration of the tool movements in time!
The material has been provided by InstaForex Company – www.instaforex.com
Source:: Simplified wave analysis for GBP/USD and USD/JPY for December 26