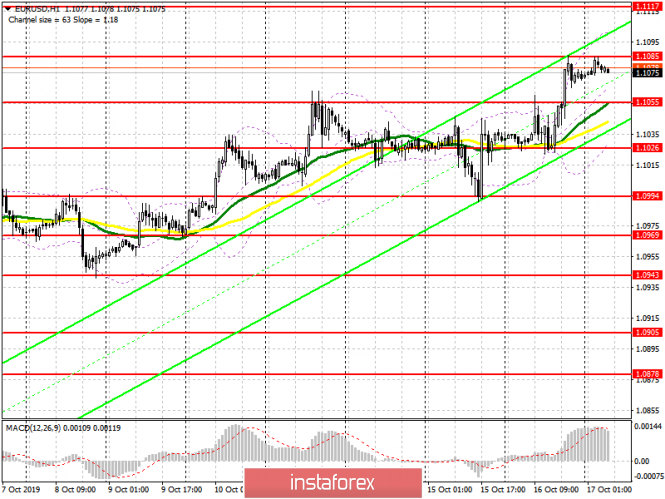 To open long positions on EUR/USD you need:
Yesterday's weak inflation did not put pressure on the euro for long, and good Brexit news strengthened the position of buyers. At the moment, the task of the bulls is to break the resistance at 1.1085, above which we can expect continued growth of EUR/USD to new monthly highs in the areas of 1.1117 and 1.1151, where I recommend taking profits. Considering that important fundamental statistics are not expected to be released in the morning, all attention will be focused on Brexit news, which may continue the euro's growth in the hopes of signing a deal. Under the scenario of a downward correction, good levels for purchases are seen in the region of 1.1055, subject to a false breakout, and slightly lower, at a low of 1.1026, where long positions can be opened immediately for a rebound.
To open short positions on EUR/USD you need:
Failure to consolidate above resistance at 1.1085, along with news that Boris Johnson had problems communicating with representatives of various British parties on the current Brexit deal, all this will be a signal to open short positions. The first goal will be to return to support at 1.1055, where the moving averages are located. However, a more important task will be updating the low of 1.1026, where I recommend profit taking. Under the scenario of further growth of EUR/USD, which is quite possible amid optimism, short positions can be considered immediately for a rebound from the highs of 1.1117 and 1.1151. Much will also depend on the statements made at the EU summit.
Signals of indicators:
Moving averages
Trade is conducted above 30 and 50 moving averages, which indicates a further increase in the euro.
Bollinger bands
In case the euro declines, support will be provided by the lower boundary of the indicator around 1.1040. The upper boundary of the indicator in the area of 1.1100 will act as resistance.
Description of indicators
MA (moving average) 50 days – yellow
MA (moving average) 30 days – green
MACD: Fast EMA 12, Slow EMA 26, SMA 9
Bollinger Bands 20
The material has been provided by InstaForex Company – www.instaforex.com
Source:: EUR/USD: plan for the European session on October 17. Bulls need a breakout of resistance at 1.1085, but the EU summit could